Anthony Joshua v Alexander Povetkin: Costello & Bunce point to a test for champion
Last updated on .From the section Boxing78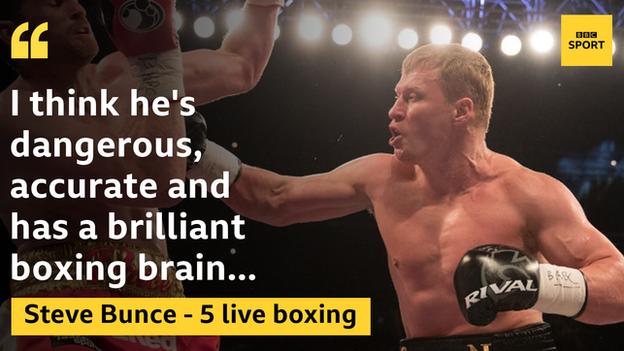 Anthony Joshua can expect to come under serious pressure when he defends his world heavyweight titles against Alexander Povetkin at Wembley Stadium on 22 September.
That is the view of BBC Radio 5 live's expert pundits as WBA, IBF and WBO champion Joshua goes up against a Russian who could be seen as the gateway to a mega-money fight with WBC title holder Deontay Wilder.
Fans have been made to wait for the Wilder clash but in Povetkin, Joshua must overcome a man who like him is an Olympic gold medallist and who has been beaten just once - by Wladimir Klitschko - in 35 outings.
Here BBC Radio 5 live analyst Steve Bunce explains why Povetkin carries huge threat, and BBC boxing correspondent Mike Costello points to the aggression the Russian will bring.
'He will take the fight to Joshua'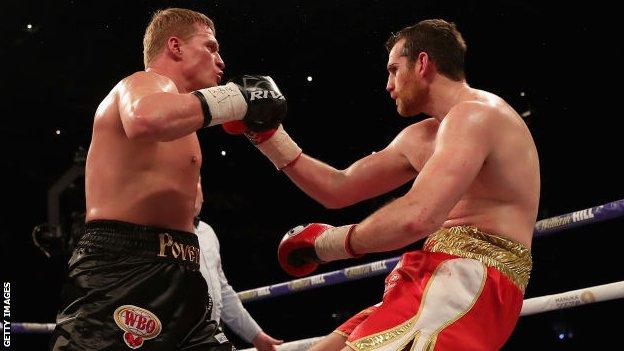 Negotiations for Joshua to face American Wilder were accommodated by the WBA for over two months but with no agreement in place between the fighters, the boxing body called for the Briton to face mandatory challenger Povetkin. The 38-year-old is highly ranked with all four sanctioning bodies.
Steve Bunce: It was the fight I expected and I'm not disappointed. Of course I am disappointed it's not Wilder but that was always a problematic fight and we have talked about that for months.
I like Povetkin, I'm a massive fan. He might be a flawed man, there have been very, very dubious practices away from the ring with various infringements on drug rulings.
But as a fighter, I like him. I think he's dangerous, I think he's accurate, I think he has a brilliant boxing brain. Wilder of course - one punch and it's all over - but take Wilder away, Povetkin is the heavyweight right now I'd least want to fight.
I'm telling you this is a good fight. Joshua boxed brilliantly, if boringly, against Joseph Parker. I said then that I didn't fancy the Wilder fight to happen. We get the Povetkin fight and it's a good one.
Mike Costello: If you look at the standout fight in Povetkin's career it's the one defeat in 35 fights when he was beaten by Wladimir Klitschko in 2013 in Moscow.
It was a messy fight, he went down four times. What struck me is he kept bringing the fight to Klitschko. There is no question he will bring the fight to Joshua. He will not be standing off in the way Joseph Parker was, he will not be cautious in the way Carlos Takam was in October. He will take it to Joshua.
'A stained past' - Should Povetkin have paid more?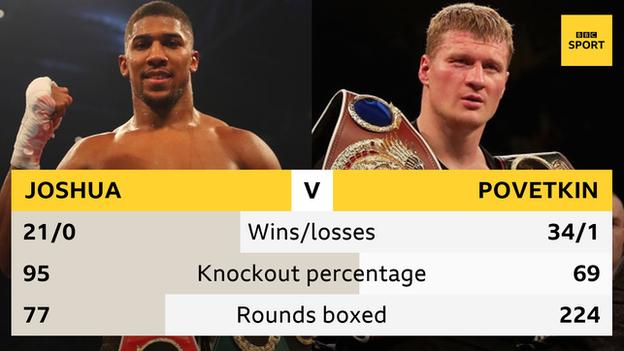 Povetkin's two failed drugs tests in recent years will undoubtedly provide some part of the narrative when fight week arrives. His first positive test flagged use of meldonium in early 2016 and though he argued he took the drug before it became illegal, the US Federal Court later ruled otherwise. Povetkin tested positive for ostarine later in 2016.
MC: In May of 2016, Povetkin was scheduled to face Wilder in Moscow. Wilder was already training in England as a go-between to prepare for the bout. Then the positive test was announced for meldonium. This was around the time when a real stain appeared over Russian sport.
Then he tested positive in December 2016 for yet another substance. He was thrown out of the sport by the World Boxing Council. They then reduced the ban to a year and fined him $250,000. So he was missing for a year but if you look at bans in the past administered by British boxing authorities, boxers have suffered more than that. But there is a stain on Povetkin's past.
SB: Our sport does not have a black-and-white rule for these issues. We have British boxers in pay-per-view shows that had their licences suspended. We are in a murky, tricky situation here.
Whether we will catch up with other sports I don't know. If Povetkin was a shot putter, is he taking part in the Olympics which is arguably an equivalent of a fight like this in boxing terms?
MC: No he isn't. For his first offence he would have been banned for two years and after the second offence he may well have been thrown out of the sport forever.
Joshua's power to tell against experience?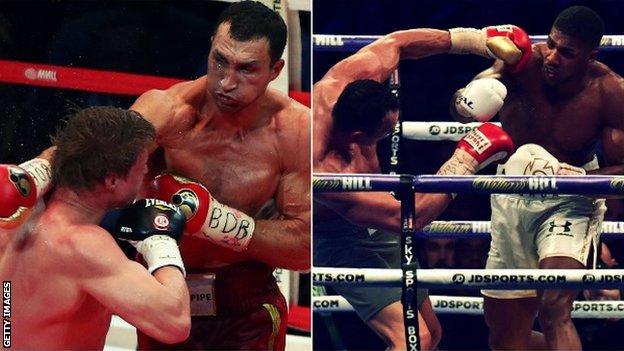 Povetkin has only fought in the UK once before, scoring a brutal knockout win over David Price in Cardiff in March. He was briefly wobbled by Price and received a count from the referee but re-gathered himself to win and ultimately, ensure he kept hopes of a bout like this alive.
SB: Povetkin's history is fantastic. He fought something like 12 named fighters in his first 15 fights. He had about two or three easier ones. They were preparing Povetkin for the very top from day one.
He fell out with trainer Teddy Atlas as the Russian backers of Povetkin had this idea he could be like a Russian Mike Tyson. They had the chance to fight Klitschko much earlier but Teddy said no, he's not ready while his backers were saying yes.
So what they did was have a behind doors sparring session. They paid Bruce Seldon - a former world champion - something like $30,000 to reconstruct the fight in some gym in Atlantic City.
I think Seldon was stopped in around seven rounds and that's when the backers agreed it was not the time to fight Wladimir. When he did eventually fight Wladimir, some of those four knockdowns he took were serious.
With Povetkin's experience, I don't think Joshua brings anything that he has not seen in a fighter before.
MC: If you look at the punch that floored Joshua against Klitschko it was a looping overhand right and Povetkin throws that shot well. He often leads with it too. So he brings this kind of aggression.
Joshua has had a seasoned amateur career. Only 40 amateur fights but a lot of them were at a high level. It's not like Povetkin will bring something he has not seen before, it's just that Povetkin is aggressive and just keeps on the front foot.
Looking at Povetkin's display against David Price last time out Price did stagger him in the third round. Then he came back and got rid of Price in the fifth round but there was just a sign that the power of Joshua could be real trouble for Povetkin.