Tyson Fury: Trainer Ben Davison charts a journey from Marbella to Manchester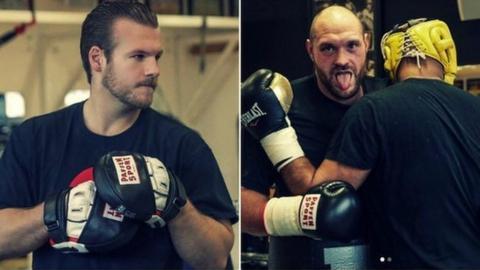 Tyson Fury v Sefer Seferi
Venue: Manchester Arena Date: Saturday, 9 June Time: 22:30 BST (approx)
Coverage: Commentary on BBC Radio 5 live; live text commentary on the BBC Sport website & app
It's been a long road back to the ring for former world heavyweight champion Tyson Fury, and it was a road he almost turned his back on for good.
After wresting the titles from Wladimir Klitschko in 2015 with one of the finest overseas performances by a British boxer in decades, the Briton fell into a deep, dark world of depression, drugs and alcohol, eventually gaining seven stone in weight.
A two-year absence from the ring saw him lose his boxing licence and face a UK Anti-Doping investigation, prompting one influential figure in his comeback to admit a return once seemed "mission impossible".
Trainer Ben Davison has watched every punch. He oversaw the 11 workouts a week which cut fat away from the former world champion, creating his trim shape for a Manchester Arena return against Sefer Seferi on Saturday.
"When I took the job on, I knew we needed to get him to Marbella and get away from all the distractions so he could focus on what we were doing," Davison, 25, tells BBC Sport.
"It was a must. I knew the good weather would help him and that was the first stage of getting him back into his routine. My goal at that stage was to get him back in love with boxing."
A road trip to Marbella
Travelling to southern Spain was no straightforward journey. Fury, who is unbeaten in 25 fights, wanted to turn around several times during a long drive, but a friendly family intervention gave Fury a boost of inspiration.
"He decided to drive over there at the last minute as opposed to flying, for some strange reason, but that's how Tyson is," says Davison, who has completed six months of full training with Fury.
"The drive was about 30 hours and there were a few points where he wanted to turn back, but we got him there in the end and he's been in good spirits ever since.
"Paris (Fury's wife) and the kids were with us and Hughie (British heavyweight champion and Fury's cousin) came out to join us.
"It was important to have them there because if we were just constantly working, I believe it wouldn't have worked. It was good to have that support from his family at the start because they drive him on - and it worked perfectly."
'Keep him stimulated and on time'
As well as Fury needing to make a dramatic drop in weight, the vital part of this training camp was keeping his mind balanced.
In an interview with Rolling Stone in 2016 before he was stripped of his world titles, Fury said: "I can't deal with it and the only thing that helps me is when I get drunk out of my mind."
Fury, who has enlisted the support of snooker star Ronnie O'Sullivan for psychology purposes, is far from that mindset now and Davison believes he has found the key to unlocking his potential.
"Everybody needs routine and structure and that was a big part of Tyson's life until he stopped fighting and lost those elements," he says.
"The key is to keep him mentally stimulated. If you allow him to get bored or switch off, he can do that very easily. I've not allowed him to do that in this camp and I worked it out pretty quickly.
"I gave him set training times, set meal times, and the more he got into that routine, I found him getting better each day. The weight was coming off and he was looking better in the gym.
"I broke it into two camps. The first one was getting the majority of the weight off but then he needed to recover. The first phase was making sure his body was ready to go through what was needed to get where he is now.
"There was a lot of cardio but he also needed to prepare the tendons, the ligaments, almost like injury-prevention training. That's high repetition sort of stuff, low weights. It's long duration stuff with light intensity and as the body adapts, the intensity we increase, increase, increase."
One-handed sparring
For Fury to shed seven stone, nutritionist Greg Marriott was responsible for designing a ketosis diet, consisting of high amount of fat, moderate protein and low carbohydrate.
Davison planned two sessions a day between Monday and Friday, with one on a Saturday. Crucially, work was not only about making the big man sweat but on nourishing an active mind.
"In sparring, I might say to him you're only allowed to counter-punch with two shots or you're only allowed to use your left hand," says Davison.
"It keeps him switched on with a target in mind and that's how you get the best out of Tyson.
"I worked with Billy Joe Saunders for four or five years. They are similar characters. You have to alleviate boredom."
'I'm not proud myself, I'm proud of him'
The fresh-faced Davison may not look as battle-hardened as some of boxing's old-school trainers.
He describes 29-year-old Fury as a "gentleman to train", but guiding one of the sport's biggest names brings scrutiny, comment from those who feel they know better and, of course, pressure.
There are also big shoes to fill as Fury's last trainer - his uncle Peter - masterminded that famous win over Klitschko in Dusseldorf.
"I wouldn't work with someone if I didn't feel it was right," Davison adds. "He puts a show on for the camera and we have a laugh but I wouldn't work with someone if they weren't going to listen to what I had to say or if I was being overruled.
"We got on and gelled straight away - outside of the gym, in the gym, my coaching style, his fighting style.
"At the beginning it was mission impossible. No-one believed we could do it or that anyone could do it. That shows how much dedication he's put in.
"I'm not really proud of myself, I'm proud of him. He has put the work in and done everything he has had to do. To lose that amount of weight alone shows how dedicated he has been."
Fury v Joshua in 2019?
The question is will this well-thought-out planning help Fury show signs of the form that saw him out-box Klitschko in his Dusseldorf coronation?
"He definitely will," says Davison. "He's very heavy handed but at this same time his movement and footwork is very slick.
"He's got two V12 engines in him to go the distance and when all those skills are firing and working together, it's going to take a very good man to beat him."
While Fury has been away, the world heavyweight titles he previously owned have been in the company of Britain's stadium sell-out star Anthony Joshua.
It is too early to suggest what would happen in a fight between the two British giants, but Davison thinks mid-2019 would be an appropriate time to open up that conversation.
"That would be the right time for Tyson to be looking at a heavyweight world title unification clash," he says.
"We have a set plan to get to that fight but that is ideally when we'll be looking at a summer showdown and filling out a stadium."
Long-term goals and potential super-fights fuel headlines and gossip. For now, though, Fury can simply return to the ring a fit and "happy" man, according to Davison.
That in itself is a victory.