World Boxing Super Series: George Groves fit to face Callum Smith in WBA title fight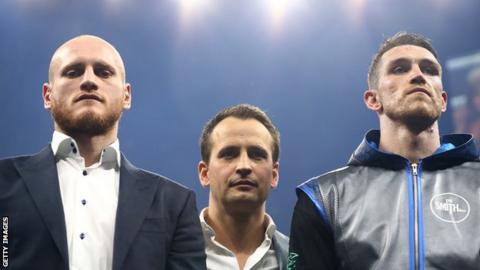 WBA super-middleweight champion George Groves will be fit to contest the World Boxing Super Series final against Callum Smith in late summer.
Groves, 30, dislocated his shoulder in his semi-final win over Chris Eubank Jr, prompting doubts over his fitness.
Eubank Jr was then on a list of replacements for the final.
But the bout has been moved back from June to late August or early September, meaning Groves and Smith will fight for the WBA title and Super Series crown.
Groves has undergone surgery to stabilise his shoulder joint and is "supremely confident" of beating fellow Briton Smith, who has never challenged for a world title.
"We already have some good sparring lined up, fighters similar to Smith," said Groves. "I am looking forward to getting back to work and winning the Ali Trophy."
'I'm glad it's Groves' - Smith
Tournament organiser Kalle Sauerland had said Eubank Jr was one of the names on the list to replace Groves should the Hammersmith fighter have been unable to compete.
But many within the sport called for the final to be delayed in order to ensure the intriguing clash between Groves and Smith could take place.
"We have been clear that the tournament has to finish within a certain timeframe, but we also realise that Groves vs Smith is the most ideal final," Sauerland said.
"By pushing the super-middleweight final date back as far as we can, we are giving fans the biggest chance of seeing this incredible match-up."
Unbeaten Liverpudlian Smith started the tournament as favourite and holds a natural size advantage over his opponent, who carries greater experience with six world title fights - including losses to Carl Froch twice and Badou Jack - on his record.
Smith, 28, said: "It is the one I have wanted for a long time. I am really happy it is going to be Groves rather than anyone else, it is the fight the fans want too.
"I have been waiting for a world title fight and feel like I have been unlucky at missing out on opportunities, but now I've finally got it."
The winner of Groves-Smith will not only walk away with the WBA title currently held by Groves, but also a cash bonus and the Muhammad Ali Trophy handed to the Super Series winner.
Groves carries a record of 28 wins and three defeats into the final, where Smith - unbeaten in 24 outings - will face the toughest test of his career to date.
The super-middleweight and cruiserweight divisions have been part of separate tournaments in the first season of the Super Series, with both competitions set to conclude this summer.