Josh Warrington says Carl Frampton fight might come too soon after win over Lee Selby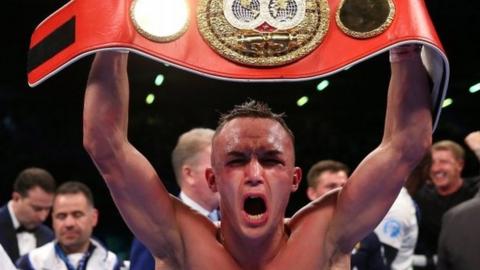 Josh Warrington says he "can die happy" after his shock victory over Lee Selby made him the first man from Leeds to become a world champion boxer.
The 27-year-old took Selby's IBF featherweight title in a barnstorming battle with the Welshman at a raucous Elland Road, home of Warrington's beloved Leeds United.
Warrington was a considerable outsider ahead of the fight, but a career-best display allowed him to claim victory via a split decision 116-112 115-113 113-115.
"Elland Road, the Kaiser Chiefs playing me in, that was the stuff dreams are made of," said the unbeaten boxer, who has 27 wins from 27 fights.
"I can't put it into words. What an occasion, what a night. I could die a happy man. How do you top that?
"I've just outfoxed and outboxed a brilliant champion in Lee Selby."
Selby, 31 did not speak to the media after the fight but later said he would move up a weight.
"I was Britain's longest reigning world champion but it came at a price and I felt that last night," said Selby on Sunday in a Twitter post after a first defeat in nine years and just the second of his career.
"I've been making the featherweight limit for 10 years but it was just one fight too many at that weight and my performance reflected that.
"I will enjoy the summer with my family and then sit down with my team to plan the exciting challenge of becoming a two-weight world champion."
Frampton fight could come too soon
With former world champion Carl Frampton already declaring an interest in fighting the winner of the grudge match between Selby and Warrington, a bout at Windsor Park in Belfast - with the stadium already booked for 18 August - would seem a logical next fight for Warrington.
However, Warrington - who just five years ago was working as a dental technician - says he does not think he will be ready for another fight in August after a gruelling contest with Selby.
"I will sit down with Frank [Warren, promoter] and look at our next options," he said.
"Windsor Park might be too soon. I wouldn't mind going back to the arena in Leeds and defending my title.
"My heart says let's get it on, I am a big fan of Carl Frampton and it would be a big payday. But I prefer the end of the year. I need some time to let this sink in.
"We will weigh up options. [The] world's my oyster now isn't it?"
Crowd quashed the nerves
Warrington, who vowed to celebrate his win with a pint of Guinness, a fried breakfast and a night off from changing dirty nappies, said his Elland Road fans inspired him to new heights.
As the chairman of the Leeds United Supporters' Club, he has an affinity with his home city that is perhaps unparalleled in British boxing since Manchester fighter Ricky Hatton left the sport.
"I was always confident in the build-up, I always massively believed. But I did get hit by a massive wave of nerves," Warrington said.
"But as soon as I got in the venue it all lifted. There was no way I was losing that fight tonight.
"It feels like only yesterday I was going to shows with 20 people in a car. This was just something else."
Grudge gone
Selby and Warrington have engaged in a war of words that stretches back years, with Warrington calling out the Welshman since he won his world title in May 2015.
Now that he has captured Selby's title, Warrington says he is keen to put the issues to bed with a fighter he says he respects.
"There was a lot of animosity, but what's done is done and hopefully we can leave it at that," Warrington said.
"I built him up as a big monster in my head, but he was a lot easier to read than I expected.
"I took the fight to him straight away and ruffled his feathers and pulled him out of his gameplan."
And Selby said in his Twitter post: "Congratulations to Josh Warrington and I wish him the best in the future."
While many were stunned by Warrington's upset victory, Warren - who promotes both fighters - says he always felt home advantage would be the key.
"I fancied him so strongly for this fight. There has been a real great improvement in him," he said.
"The fans were a million times better than I thought they would be.
"The crowd didn't get to Lee Selby, he was very professional but I knew they would get to and inspire Josh.
"I'm a big believer in fighting in front of your own guys.
"I thought it was a superb and gritty performance against a tough, tough world champion."
'Josh won't be ready for Frampton' - analysis
BBC Sport boxing correspondent Mike Costello: That was a special, special performance. Warrington was told he would need the performance of his life and he has produced it. It was a magical performance.
Former British and European champion Jamie Moore on BBC Radio 5 live: It's a fantastic performance and Josh has sent a statement out to the featherweight division.
I don't think he will be ready to face Carl Frampton on 18 August. It would be unfair for Josh Warrington to do that. Three months turnaround is far too much.
A lot of us have overlooked Josh Warrington. He has shocked a lot of people tonight.