Vasyl Lomachenko: Is the Ukraine fighter one of the world's leading sportsmen?
Last updated on .From the section Boxing183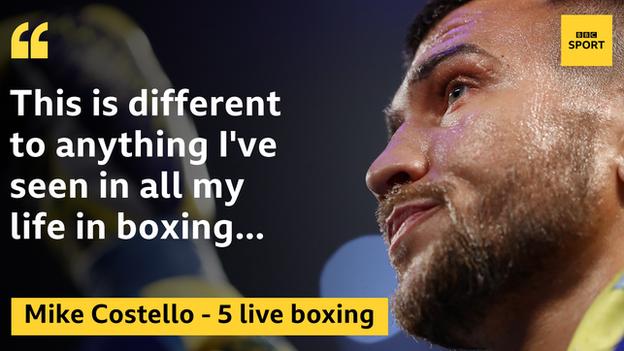 "This for me is the biggest impact in a sport I have known since Tiger Woods started winning everything."
Vasyl Lomachenko is just 12 fights into his professional boxing career but the records he surpasses and the style in which he sets them has left BBC Sport's boxing correspondent Mike Costello searching for superlatives.
Victory over Jorge Linares at Madison Square Garden on Saturday took Lomachenko to three world titles in three weight divisions in just a dozen fights.
No fighter has achieved such a feat so quickly, so is Ukraine's two-time Olympic champion a phenomenon on par with the world's sporting greats?
'He broke their hearts'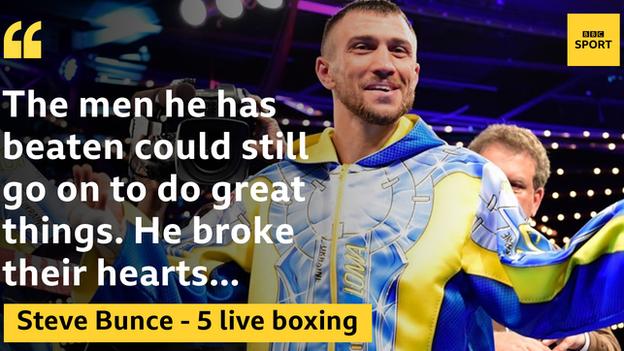 Lomachenko, 30, survived a sixth-round knock down and ended the challenge of Linares - himself a three-weight world champion - with a crippling body shot in round 10 to take the WBA world lightweight title.
Costello: If you were in danger of falling out of love with boxing, Lomachenko rekindled the relationship.
It's three world titles in as many divisions now. By way of context, Oscar De La Hoya took almost twice as long - 22 fights - to achieve that feat.
He's had 11 world title fights and won 10 in a row. I was totting up the overall record of the men he has beaten: 286 wins, 15 defeats. That's the calibre of the men he has faced.
BBC Radio 5 live boxing analyst Steve Bunce: Even when he went down in the sixth round he survived 14 seconds by moving. Straight away at the start of the seventh he went over his front foot and if anything, threw punches with more venom.
The previous four fighters he beat before Linares were all exceptional, two of them unbeaten. He made all four quit, they stayed on their stool. He was making Olympic gold medallists and unbeaten world champions quit.
He hadn't bashed them up, most of them were unmarked but they went back to their corner and shook their head. Linares didn't quit but he was as broken as those four men. These men he has beaten could all go on and do things, he broke their hearts.
'The best sportsman on earth?'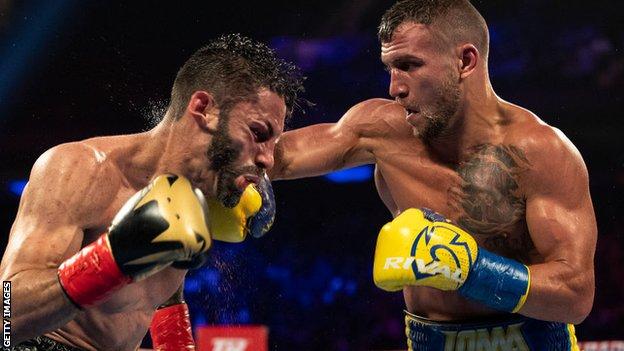 Lomachenko's record as an amateur was a reported 396 wins and one loss, including gold medals at the 2008 and 2012 Olympics. His professional career has seen one loss when contesting a world title in just his second fight in the paid ranks. World titles at featherweight, super-featherweight and lightweight have followed.
Costello: We are lucky to be working in the business at a time when he is doing what he is doing. I was a massive tennis fan as a kid at school. I remember Ilie Nastase being beaten by Bjorn Bjorg and saying "we are playing tennis and Bjorg is playing something else".
That's what strikes me about Lomachenko, this is different to anything I have ever seen in all my time watching boxing.
Is he the best sports performer on the planet right now? Is he better than Virat Kohli, Roger Federer, Lionel Messi, Chris Froome, those kind of people?
Bunce: If we are not doing a sports personality of the year, just the greatest athlete or sportsperson alive right now on performances, he has to be with them.
'Dancing feet - what makes him so good?'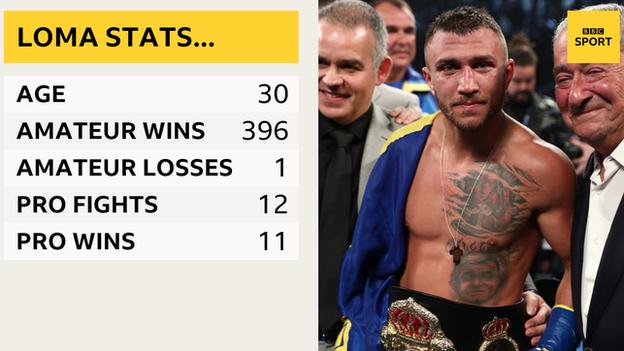 Lomachenko bases his training camps in California and is trained by his father Anatoly. Their work involves sessions doing puzzles to aid Lomachenko's mental ability.
Costello: Lomachenko was saying in an interview before the fight that hard work is the basis of his skills. He says it is hard work, but he makes it look so easy. His feet are always in place.
As a southpaw, the key often is to get the right foot outside the opponent's left foot so that you are always in position to throw a left hand straight to the chin.
All the time the left foot was on the outside of Linares. Whatever Linares did, Lomachenko was always, always in position.
It's the sheer relentless energy, variety and accuracy of what he does. There isn't a single second in any of his fights where the opponent has been able to take a second of rest.
The best fighters find time to take time out, you can't do it against Lomachenko, he is just non-stop.
Bunce: We know several things about him. He doesn't run, they do swift walks and he swims in training. The other thing he did is have a couple of years out where he did a lot of dance - ballet and Ukrainian dance. His feet are perfect, he's completely light on his feet and brilliantly poised.
Then there's the modern stuff, the kind of odd punches he throws. The final knockdown in the 10th round, that shot, not only could you not see it with the naked eye, it came at a blind angle. When he hits you he looks you in the eye. He manages to throw shots without taking his eyes off you so you have no idea where they are coming from.
What next for boxing's Tiger Woods?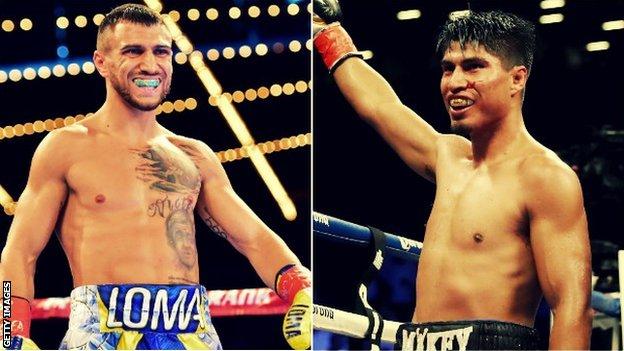 Lomachenko's promoter Bob Arum has likened his fighter's prowess to the late Muhammad Ali. Some in the sport believe he can perhaps win a world title in yet another weight division but Costello feels his physical frame means lightweight will prove his optimum class.
Costello: As somebody who has worked in and around sport for a long time, this for me is the biggest impact in a sport I have known since Tiger Woods broke through and started winning everything.
I think where Lomachenko has to work is broadening his appeal globally. At the moment he is still a boxing story. It's less than a year since he started taking English lessons. He is practising and he is getting fluent.
The Klitschko brothers - Wladimir and Vitali - were told a key factor in broadening their appeal was speaking English. That's where he could improve in terms of his all-round status.
The fight I want to see now - if it's built the right way I sense it will be one of those we look forward to like we have rarely looked forward to a fight - is Lomachenko against Mikey Garcia.
What if Lomachenko next time out was to face WBO champion Ray Beltran and win, he'd have two belts. Garcia has the WBC title and could face IBF champion Robert Easter to hold two belts. Then you have a lightweight showdown for all of the marbles - four belts and a stunning contest.
Bunce: I agree with Bob Arum when he says "how can I compare him and who do I compare him to? How can I compare him to Ali or Sugar Ray Leonard?"
Does that not sound like he's saying this guy may be better than them? We have no measuring stick, there's no one to hold him up against.
This guy has now done it at three different weights and with two Oympic gold medals. Where are the comparisons? How do we do it?