Jorge Linares says he will not quit against Vasyl Lomachenko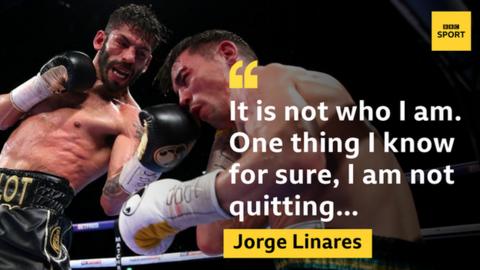 WBA lightweight champion Jorge Linares has rubbished the prospect of becoming the fifth fighter in a row to quit at the hands of Vasyl Lomachenko.
The pair fight at New York's Madison Square Garden on Saturday, with Linares defending his title.
Lomachenko, 30, could win a world title in a third weight division in just his 12th fight as a professional.
"Maybe they are cold minded and they quit. I didn't prepare myself for that. That's not who I am," said Linares, 32.
Last time out, Ukraine's Lomachenko - a two-time Olympic champion - made Cuba's Guillermo Rigondeaux - also a double Olympic champion - retire after the sixth round.
In Lomachenko's previous fights, Nicholas Walters pulled out after seven rounds, Jason Sosa after nine and Miguel Marriaga after seven.
"He is a fighter that overwhelms, psychologically, the opponent," added Venezuelan Linares, who has claimed world titles in three weight classes.
"I am ready to go 15 rounds if that is what it takes and one thing I know for sure, I am not quitting.
"I want to be unique. I want the elite, that's what will put me at the top level."
Lomachenko is often referred to as the best pound-for-pound fighter in world boxing. His progression to world-title fights was fast after a renowned amateur career which ended with a reported record of 396 wins and one loss.
He contested a WBO world title at featherweight and lost in just his second professional bout but won the belt in his next outing. He then claimed the WBO super-featherweight title in his seventh fight, making him the fastest two-weight world champion in history.
This is his first bout at lightweight, where Linares has competed for eight years and built a 13-fight winning streak including two wins over Britain's Anthony Crolla and a narrow points victory over Luke Campbell in September.
"I'm a natural lightweight," added Linares. "I am considering moving up soon.
"I am the bigger, stronger guy. But he has his advantages too, he's very fast, very technical, he's very intelligent. I have to know when to use and apply my advantages over him.
"This is the beginning of the big fights for me. This is a door I'm going to get through to a bigger stage."
Lomachenko - did you know?
Trained by his father Anatoly, Lomachenko briefly paused from boxing in his teens to take up traditional Ukrainian dance classes and cites these as part of the reason his footwork dazzles in the ring.
As part of his training he holds his breath under water for long spells in an attempt to improve his ability to remain calm while pushing boundaries. He claims his record is four minutes and 30 seconds.
After tough sessions, Lomachenko undergoes mental tests with his psychologist. These can involve puzzles and reaction exercises that seek to hone what his team call his 'athletic IQ'.
Named Fighter of the Year by the Boxing Writers Association of America and The Ring in 2017.
The impossible jab? - what they said
Luke Campbell, who lost to Linares in September: "I was thinking of whether to go over and watch. I think Lomachenko outboxes him over 12 rounds. I wish I would have got my rematch with Linares and think I would have beaten him comfortably."
Former British light-heavyweight champion Frank Buglioni: "Linares is great but Lomachenko is an all-time great. Lomachenko with a late TKO."
Former WBO super-featherweight champion Barry Jones: "The problem Linares has is everything he does comes off the jab, which is what you should do. But establishing the jab against Lomachenko - not just because he's a southpaw but the way he moves - is near impossible."