David Haye should not fight again after Tony Bellew defeat - Steve Bunce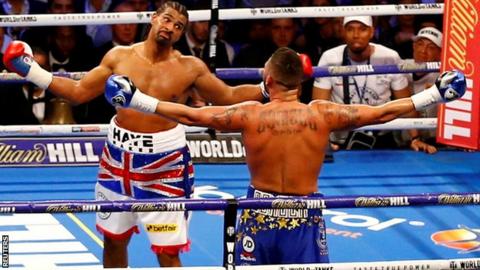 Former two-weight champion David Haye became an "old man" in his loss to Tony Bellew and should never fight again, says BBC boxing analyst Steve Bunce.
Haye, 37, was stopped in the fifth round of their heavyweight bout at London's O2 Arena.
It was the ex-world heavyweight and cruiserweight champion's second loss to fellow Briton Bellew, 35, in 14 months.
"It's been a remarkable journey but the story is over," said BBC boxing correspondent Mike Costello.
Bellew delivered three knockdowns on his way to victory on Saturday.
Haye now has four defeats from 32 fights in a career during which he became only the second boxer after American Evander Holyfield to unify the cruiserweight titles and become a heavyweight world champion.
"I don't want to see David Haye fight again," said Bunce on the 5 live Boxing with Costello & Bunce podcast. "Nobody in the David Haye business should ever want to see him fight.
"There doesn't need to be an inquest. I thought he'd have enough today, but he became an old man in the ring tonight. He realised in the third round that he didn't have another nine rounds in him - that's why he was reckless and why he seemed to not care."
Costello added: "It was a magnificent performance from Bellew. Whatever you say about Haye, he grew old in there tonight. The way Bellew systematically took him apart was very impressive."
Bunce's warning was reiterated by WBA world super-middleweight champion George Groves, who joined Haye's Hayemaker Promotions when he turned professional in 2008.
"David was kind and generous to me when I turned pro," the 30-year-old Briton wrote on Instagram. "I learned a lot from him in the early part of my career. I won't forget that. I hope he finds his new calling, I hope he's happy, I hope he never decides to fight again."
'Bellew wants a big name'
Bellew has set his sights on fighting fellow Briton Tyson Fury and American Andre Ward after his 30th win from 33 fights.
The Liverpudlian's promoter Eddie Hearn has ruled out a bout with British world heavyweight champion Anthony Joshua.
Bellew said he would meet former world champion Fury at heavyweight but only if the fight happened soon, while any meeting with Ward would likely be at cruiserweight.
"No doubt they [Fury and Bellew] would muster up a scuffle," said Bunce.
"The problem is Tyson Fury is young; he is not Haye and 37 years old. If he regains half of what he had against Wladimir Klitschko then Bellew's not touching him - purely on size and strength, his extra reach and extra height.
"Hearn has talked about Ward - some kind of odd, obscure prize fight - and Bellew has talked about Ward. I'll throw Joseph Parker in the hat as well.
"Deontay Wilder is a name to stir some emotions, but there are all sorts of problems with the men he has to fight.
"Dillian Whyte was a name suggested, but Bellew rejected him by saying he is not a big enough name. I think that is what Bellew is looking for. He has just had two back-to-back, mad prize fights you could not have invented six months before them."