Paul Butler fails to make weight for IBF bantamweight world title fight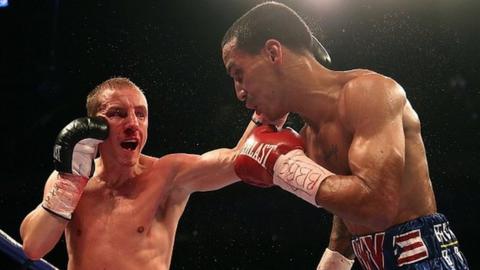 Paul Butler described himself as "gutted" and "heartbroken" after failing to make the weight for his IBF bantamweight world title fight against Emmanuel Rodriguez on Saturday.
Butler weighed in over the 118lb limit and despite being given a further two hours failed to make the weight.
The Englishman, who was therefore unable to win the title, was knocked down twice in the first round.
The undefeated Puerto Rican won by unanimous decision to take the crown.
"Failing weight in my biggest fight looks unprofessional and I understand the stick I'm getting," Butler, 29, said on Twitter.
"I'm gutted and heartbroken I can't win that world title, but I didn't fail it without trying. I'd never do that."
Butler and Rodriguez fought on the undercard of the David Haye-Tony Bellew bout at London's O2 Arena.