Rio Ferdinand's trainer was 'not surprised' BBBofC refused the footballer a licence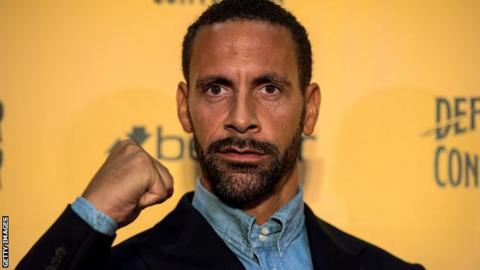 Rio Ferdinand's trainer says he is "not surprised" the former Manchester United and England defender was refused a professional boxing licence.
Ex-WBC super-middleweight champion Richie Woodhall said it was "difficult" given Ferdinand's age and experience.
The British Boxing Board of Control (BBBofC) said it was "not beneficial" for Ferdinand to be granted a licence.
"It was not sensible for him or for the sport," BBBofC general secretary Robert Smith told BBC Sport.
Ferdinand, 39, who retired from football in 2015, announced his new career in September and said he was "disappointed" by the BBBofC's decision on Thursday.
The six-time Premier League champion's move into the ring was being backed by betting company Betfair, as part of the 'Defender to Contender' challenge.
"I said from the word go it would be difficult and the hardest part of the process would be getting a licence," Woodhall, 50, told Radio 5 live. "I told Betfair it would be a major issue.
"When he started he was 38 years old with no boxing experience."
But Woodhall added: "I was very disappointed. He would have been OK and made the grade and fought as professional, I have no doubt about that.
"I wish someone from the BBBofC would have come down to the gym and seen him train and spar - they would have granted him a licence straight away."
Smith says the BBBofC was not involved in Ferdinand's training programme and was not asked to visit him.
He said: "We received the application and considered it. Every application is considered on it own merits and it had not been refused because of who he is.
"There are a lot of things we take into consideration. He never had a competitive fight and although he has been in the gym, there is a difference between being in the gym and boxing.
"We do not deem it beneficial for him to have a licence."