Haye v Bellew: Only 'spectacular' win will delay retirement plans, says David Haye
Last updated on .From the section Boxing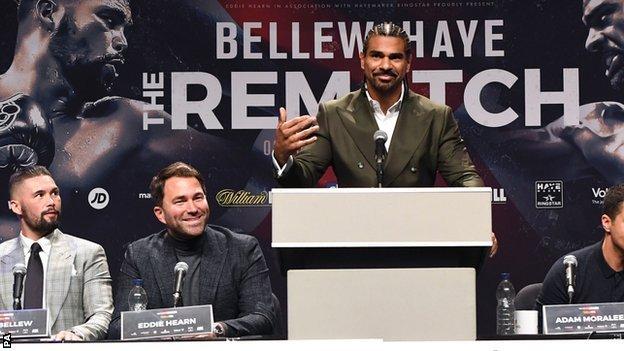 Bellew v Haye 2
Venue:
The O2 Arena, London
Date:
Saturday, 5 May
Coverage:
From 20:00 BST - Follow live text commentary on the BBC Sport website and mobile app
David Haye says nothing other than an emphatic win over Tony Bellew in their heavyweight rematch will stave off the prospect of retirement.
The pair meet again at London's O2 Arena on Saturday.
Haye says he is "a different animal" to the fighter Bellew stopped 14 months ago.
"A split decision win against Tony Bellew suggests my time has come and is long gone," Haye, 37, told BBC Radio 5 live.
"A spectacular knockout where I look like my old self, that could make things very interesting in the heavyweight division."
Bellew, 35, has mocked Haye, stating the former world heavyweight champion has no intention of challenging for a title and has instead looked to "rob the bank" by cherry-picking fights since taking three years away from the sport in 2012.
Haye is adamant he can earn a shot at the division's champions - Anthony Joshua and Deontay Wilder - having lost his WBA world title to Wladimir Klitschko in 2011.
He has conceded defeat to Bellew would leave him facing retirement but asked what route he would take if he only narrowly avenges his loss from last year, he told BBC Radio 5 live's boxing podcast: "I would have to accept that it wasn't meant to be.
"Right now it doesn't feel that way. I feel fast, explosive and Tony Bellew is going to have to feel the wrath of it.
"Against Klitschko, that was my chance and I failed. I believe if everything is on point, I'm healthy and have Ismael Salas training me, improving me daily, I believe I can prove I am the best in the world.
"If I prove it against Bellew, the world is my oyster."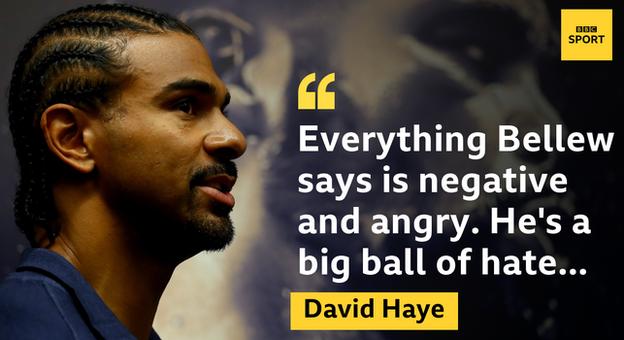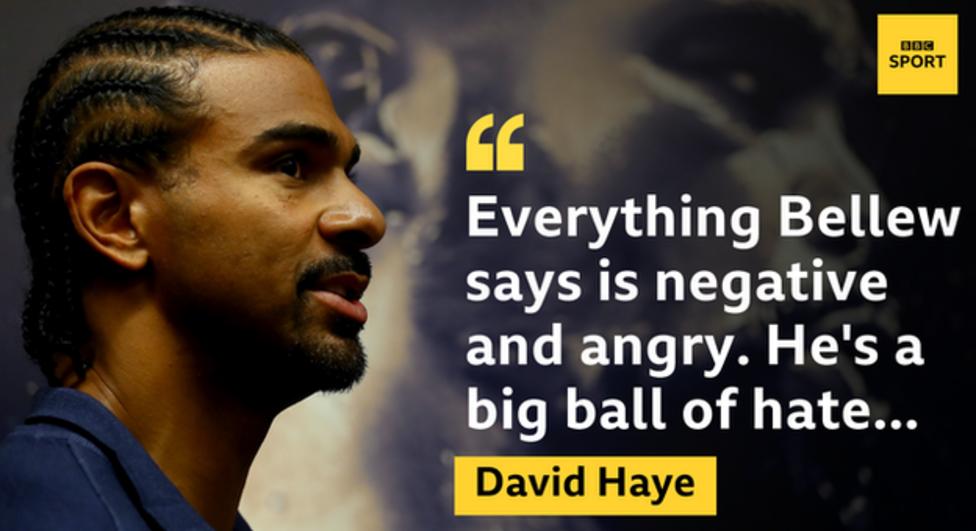 Salas - who has coached over 20 world champions - became animated at Monday's news conference when Bellew described Haye as "one of the most dangerous four-round fighters in the world". The Cuban trainer insisted Haye would be prepared to go 12 competitive rounds for the first time in almost seven years.
It is clear Haye is happy for the team around him to engage in trading insults with Bellew rather than doing so himself. His behaviour and words before their first contest resulted in a fine from the British Boxing Board of Control but he feels it hindered his performance.
The Bermondsey fighter insists his "mindset was wrong" and that he "underestimated" Bellew, resulting in a performance he feels was as ragged as anything he has offered since he was "13 or 14 years of age".
Haye added: "Everything with Tony Bellew is negative and angry, he's a big ball of hate and I went down into the gutter with him last time. It brought the worst of me and the worst out of me in the ring.
"I am a whole different animal now, physically, emotionally. People laugh when I say it but, spiritually, I am in a whole different zone. Last time around it was all very dark and very negative.
"This time around I'm doing my thing with my team, a nice positive vibe, having fun and not engaging in any of his negativity. You will see a positive performance on the night. They say negativity breeds negativity. I never want to go into that zone ever again."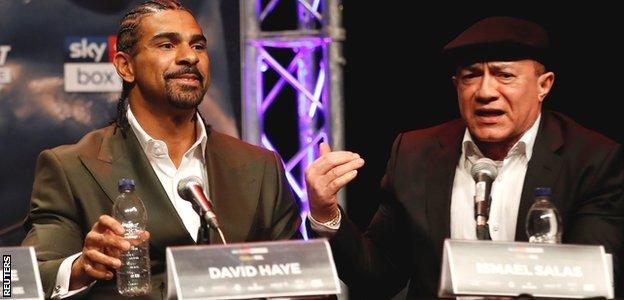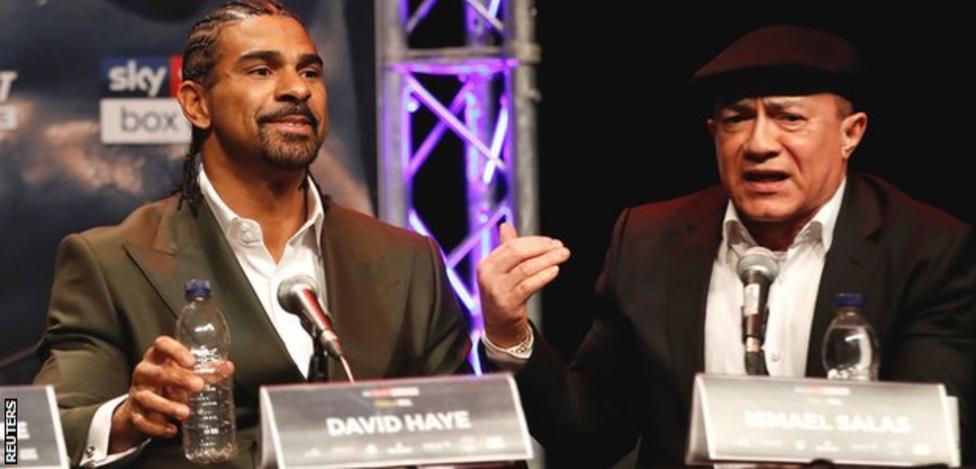 'Salas the special ingredient'
Haye started training with Salas after undergoing Achilles surgery on the injury he sustained six rounds into his 11th-round stoppage defeat to Bellew.
A biceps operation saw a rematch postponed in December but Haye now believes he is in peak condition having also started working with strength and conditioning coach Ruben Tabares again.
Tabares oversaw Haye's conditioning in camp when he wrested the WBA heavyweight title from Nikolay Valuev in 2009.
"Ismael was the first guy I thought I'd want ideally to take me to that next level," Haye added.
"I am going to need something special, someone who has been there before at world level. He has 40 years' experience training Cuban fighters and the likes of Jorge Linares. He's not telling you stuff because he thinks it's right, he knows it's right.
"When someone is telling you from experience it has that little bit more weight to it. It's like going to school every day."