Anthony Joshua v Deontay Wilder: Eddie Hearn says American's team are 'bluffing'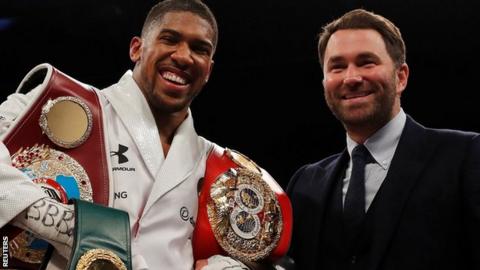 Anthony Joshua's promoter Eddie Hearn has told Deontay Wilder's camp "deals are made in the boardroom, not on Instagram" as negotiations continue over a heavyweight unification bout.
A meeting between the two boxers and their advisors about Wilder's $50m (£35.9m) offer had been set for Friday but did not go ahead.
However, Hearn said Wilder's team were "bluffing" about setting up a contract.
"I think the fight will get made, but don't listen to the bluff," Hearn said.
Briton Joshua, 28, holds the WBO, IBF and WBA titles, while 32-year-old American Wilder has held the WBC heavyweight title since 2015.
Wilder made the fight offer in a video posted on Twitter.
Speaking to IFL TV on Sunday, Hearn said: "How can you take these people seriously when all they are interested in doing is talking on social media?
"Deals aren't made on Instagram, they are made in the boardroom. But they don't want to see us in the boardroom. Weird."
Wilder's manager Shelly Finkel confirmed to ESPN on Thursday an offer had been made.
Hearn said at the time that he had to be convinced that the money "exists" before agreeing to any fight.
"I want contracts, I want a meeting - is that too much to ask in a $50m offer?" Hearn added on Sunday.
"What do they expect me to do? Just say 'yeah that's fine, we'll take that'? They are bluffing and we smoked them out."
The 38-year-old added he thought the fight would be held "somewhere between September and December".
"Showtime [American TV network] like the fight in November, we've spoken to them," Hearn added.