Tyson Fury: Anthony Joshua plans, losing seven stone & 'the return of Achilles'
Last updated on .From the section Boxing
"Whatever happens in the heavyweight division, from here on it will not be quiet."
The British former heavyweight champion said he would be bringing "flair and flame" in a Manchester bout on 9 June against an as yet unannounced opponent.
The 29-year-old has not fought since he so dramatically claimed the IBF, WBA and WBO world titles from Wladimir Klitschko in November 2015 - a victory Costello said had been driven by Fury's "unshakeable conviction he was going to do it".
Costello, speaking on BBC Radio 5 live, added: "Back then, Fury based himself on guile and confidence. From what I heard from him today, his sense of self-belief has not diminished.
"Fury has always had this great belief in his ability. He is one of these boxers who embodies a contrast or paradox we often see in the sport.
"Clearly he has had so many problems controlling his life and mind and yet, in the ring, when the bell sounds, there has rarely been a British heavyweight who has been in more control."
So what is next for the imposing fighter? What are his chances of further success? And what about a future meeting with new champion Anthony Joshua?
Is he back for good?
In October 2016, Fury gave up the WBO and WBA world heavyweight titles titles to focus on recovery from mental health problems.
A day later he was suspended by the British Boxing Board of Control over "anti-doping and medical issues". He had tested positive for a banned steroid in February 2015, but blamed the result on eating uncastrated wild boar.
In December last year, Fury accepted a backdated two-year suspension from UK Anti-Doping.
In January he had his licence reinstated and he has now signed with promoter Frank Warren.
"Clearly because of his mental health issues Fury needed some time away, but the break has done him good, as he said today," Costello said.
"He has been boxing since the age of six, boxing at elite level as an amateur and professional since he was a teenager - so maybe there was time for a break.
"He is only 29 and hasn't been in many gruelling fights, so there is a chance he will be as fresh as when he left the sport.
"But there is also this sense of the unexpected - how much of that Fury is left?"
What about a fight with Joshua?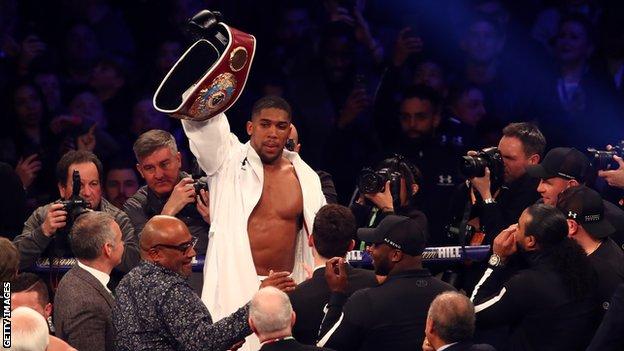 During Fury's absence, fellow Briton Joshua has taken the IBF, IBO, WBA and WBO world heavyweight titles.
After beating New Zealand's Joseph Parker to win the WBO title on 31 March, Joshua said: "I want Wilder. Or Fury. Get him [Wilder] in the ring and I'll knock him spark out."
The WBA has since ordered Joshua to begin negotiations with mandatory challenger Alexander Povetkin of Russia, but the Londoner says he would prefer to fight Wilder next.
"Warren's role in this is going to be absolutely crucial. Fury is in good hands - look at what Warren did with Joe Calzaghe and Amir Khan. They are blueprints on how to build a boxer," Costello said.
"Warren is so expert at it and will make sure Fury develops form here without taking too much risk too soon.
"Warren said Fury is three or four fights away from a world championship fight. He will be looking for someone durable first time out. Next maybe someone beaten by Joshua on his way up so that they can compare results, like Eric Molina.
"But of course - Joshua is the ultimate target. Warren has said a meeting between the two would be among the biggest occasions in British sporting history.
"Is it too long away? Because of the way Fury reads a fight he has not taken too much punishment - the key is how much of that expert eye is left."
'Achilles is back'
Tyson Fury, speaking to BBC Sport's Mike Costello
I was very burned out with it all, like a candle on its last flame. I had been boxing a long time and needed a change. I could not box any more, not for any money or belts. I had just had enough.
So I spent time with my family. I got two more kids out of it - that's worth all the money in the world to me. I am ready now to come back and take what's mine - and prove myself as well.
There will be no change. It will be flair, action, exciting press conferences, plenty of talking. It will be entertaining, we are in show business after all, aren't we? Unless I'm in the wrong building?
To come back from where I was - obese, 28 stone - to be fit as a fiddle looking fantastic again and ready to fight, that is an achievement in itself - almost as good as winning world titles.
This time I'm fighting for all the drug addicts, alcoholics, people with mental health problems, people with all sorts of problems - domestic violence, whatever you want to call it - I am fighting for those people.
I fight for the oppressed people. I am not just fighting for me, I fight for all these people to give them hope - because if I can come back from the brink of no return then so can they and everyone deserves a second chance.
I am more hungry now than when I won the world title. I'm not hungry for fame and money - I had all that in the past it did not make me happy.
I'm hungry to get back out there and put on a show.
It's been a good 30 months of boxing - there have been some ups and downs for heavyweights. It's been exciting but you know there has been no flair, no entertainment, people dressed in suits shaking hands, the same stuff that's been going on for 200 years.
Without me there would be no flair in the heavyweight division.
I am the flame and the flair in the division. People have been groaning to have Achilles back - and now Achilles is back.
'It would be enormous'
Boxing analyst Steve Bunce on BBC Radio 5 live
For me this has less to do with how much weight Fury has lost out of the ring and more to do with - and it's a cliche - the eye of the tiger. Has he got that desire? You could hear it in the way he talked today.
He is also operating on very good territory historically - Muhammad Ali, Mike Tyson and Frank Bruno all came back and fought for and won the heavyweight title around the ages of 28, 29, 30.
And remember this - Fury is only 18 months older than Joshua. They are near enough the same age.
One problem in any match between them though is that there is not a stadium big enough to host it. There will easily be 90,000 fans at Wembley watching the good guy versus the bad guy.
We have said every time we leave a Joshua fight - what would have happened had it been Fury in there against him?
Invariably we say the good Fury would have beaten that Joshua. But does he beat all Joshuas? We don't know, and that is why it would be so enormous.
'Mentally focused - he's lost seven stone'
Promoter Frank Warren on BBC Radio 5 live
Tyson's been out of the ring but mentally he is in a very good place now. At 29, he is still young for a heavyweight and he has got the bit between his teeth. He's lost seven stone in the past few months, so he is going to be in good shape and most importantly he is mentally focused.
He has had a few problems - some of which he inflicted on himself, some had other factors involved. But there has been a lot of pressure on him. He has had some counselling and, as he has said himself, he knows what it is like to be down there in despair and despondency.
As he's said today, he's already won the biggest battle - to get back in a good frame of mind. There has been a lot of support around him and he is in a very good place. We hope he is going to continue to be that way.
He does need to get match fit, get rid of the the ring rust - but in three or four fights we hope to be in a position where we are challenging Joshua for the title he had to vacate because of his problems.
That will be the biggest sporting event in my lifetime in boxing, there's no doubt about it. We'd like to see that in nine to 12 months.
That is the road they are on. Hopefully they will both remain undefeated because it would be a massive, massive event. It would eclipse anything in boxing that's taken place in this country.