Anthony Yarde: From troubled beginnings to sporting excellence and boxing dreams
Last updated on .From the section Boxing
"The other day my mum came up to me, gave me a hug and said: 'Son, I'm proud of you.'"
Anthony Yarde's recollection warms the air. A mother's pride is normally a given but, by Yarde's admission, he has visited dark places.
Stabbings, gun shots and conflict on the streets offered a brutal background to a sporting prowess which brought interest from football clubs, rugby clubs and athletics aficionados.
And now he is here, at the Peacock Gym in London's Canning Town, a European light-heavyweight champion displaying rapid hands and an evasive torso in a training session overflowing with energy and positivity.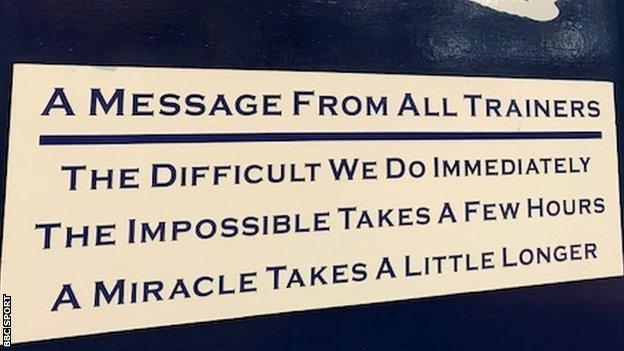 QPR goals and devastation
Deep in the gym, past signs which point out how many calories certain cardio exercises burn, past scales and past punchbags which creek as if they ache, Yarde is skipping. His incredible skill level makes him seem part boxer, part circus act.
His trainer, Tunde Ajayi, corrects me. "I don't buy the 'natural athlete' talk," he says. "Be a natural athlete and don't train. See what happens."
But genetics seem to have been kind. Yarde had trials with Queens Park Rangers in his youth, was picked by 1984 Olympic gold medallist Tessa Sanderson for athletics training and was also taken to Harlequins to master rugby union when it was discovered he could run the 100m in under 11 seconds aged 16.
"I scored in the trial for QPR. I'd have been 15 or 16," Yarde says. "Then, during the game, I broke my toe, started limping and I couldn't walk. I was absolutely devastated.
"No-one at school knew I could run fast until Tessa Sanderson's team spotted me. When they knew I could run, one of my teachers took me to Harlequins. They seemed keen on me but I didn't even understand the game of rugby.
"So I was in football, athletics doing shot put and sprinting, and rugby all at the same time. Ultimately, I didn't know how serious you had to take one of them and I was just a kid wanting to do everything at once."
'I'm very proud of you' - a mother's joy
Yarde bounces into a pad workout with Ajayi and fellow pad men Ade Olayinaka and Martin Malcolm. The trainers have nicknamed themselves 'The Squad'.
Of the hundreds of punches Yarde throws, only one prompts a "nice" from Ajayi - a sneaky, well-camouflaged left to the body.
Ajayi is well versed in the sweet science having spent several years observing methods at the renowned Las Vegas Mayweather Gym.
"This - the Peacock Gym - is the only gym where Floyd Mayweather came to train in England. It's monumental", Ajayi says.
Now Yarde is a prized member of a gym which also boasts promising British heavyweight Daniel Dubois. It has been some journey from his teenage years in Stratford and Forest Gate, during which Yarde says he witnessed stabbings, gun fire and - at times - used his speed to run from conflict.
"When you get a bit older, life can start kicking and it was mainly the area I grew up in that began to lead me astray," says the 26-year-old. "I went down the wrong paths to some degree.
"When I wasn't doing the right things, I will always remember my mum saying to me, 'I'm not happy. I don't care what you're doing, how much money you bring home, I don't want that.'
"Now, when I speak to her she has this different look in her eyes. The other day she said, 'I'm very proud of you.' She gave me a hug. That's the stuff which is so refreshing and those moments drive you even more to succeed."
Motivated by confrontation
Yarde's mum, Sonia, begrudgingly allowed her son to start boxing in his teenage years. A mum of four, she insisted he could not spar and was suitably angry when she found he had.
"My first boxing experience came at around 14," Yarde says. "There was always confrontation in the area I grew up in. My mentality, I'll be honest, was if someone tries it with me, I want to be able to knock them out.
"I thought the Mike Tyson story was beautiful and it drew me in. He was bullied, a small kid who started knocking out giants."
It took until he was almost 20 for Yarde to take the profession seriously; he vowed to stay away from places trouble may lurk.
Six years on, he looks a natural. The combinations flow, the footwork is sharp and there's an aura of invincibility about a man with 15 wins from 15 fights. He says he feels "at home in the ring".
Ajayi, who tapped into esteemed trainer Roger Mayweather's methods at the Mayweather Gym, is clearly lit up by Yarde's prowess, refusing to call him a prospect.
"When I make statements like he has the best work ethic I've seen, I mean it," says Ajayi. "I've seen Floyd Mayweather train, I've spent time in Freddie Roach's gym in Los Angeles, and watched Manny Pacquiao. Anthony works harder. It's his intensity."
Asked how long the session will last, Ajayi tells me Yarde decides. There's no early dart or drop in energy to be found.
"We don't get weak, we go deep," shouts Olayinaka.
'He will never complete my system'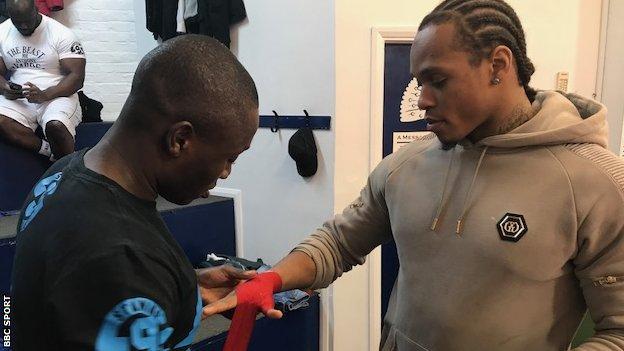 Yarde, who is number two in the WBO's global rankings, is expected to fight again in June.
He spends a few minutes working the pads with each of his trainers. They switch to freshen up as he sets a relentless pace.
The widely circulated videos of Floyd Mayweather's hypnotic pad workouts are apparent in his work. Scores of tapped punches, slips and blocks are preferred to isolated power hitting.
Ajayi says his time spent at the Mayweather Gym "validated" his ethos as a trainer. Over time he has forged what he calls a "system" to develop and train a fighter.
"Most martial arts have a grading system," Ajayi tells me. "Boxing is the only one that doesn't have that. It is old and draconic in a sense. There's never really been a system. I've created one. It's one I feel that if anyone follows it they will be successful.
"It's similar to what Roger Mayweather does - because of the amount of progressive combination work - but I feel I have something very unique.
"No fighter will ever be at the end of my system. It's too in-depth. The great thing is that while a fighter trains under it he will learn something every day. It's down to the will of the student. Give me a willing student and I will make a champion."
'Unify and buy mum's house' - the goals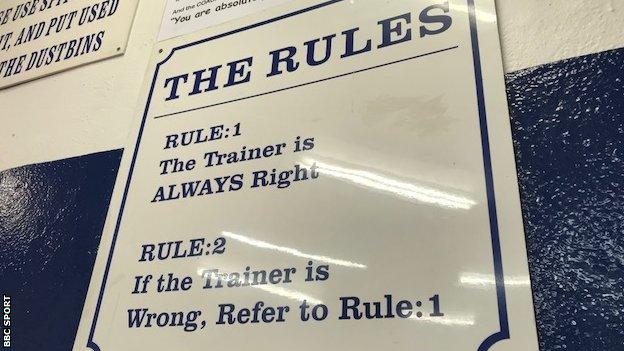 Yarde knows his own mind. When part of his pad workout doesn't flow for the briefest of seconds, he points out how he wants it corrected.
He looks in his own world, and the commitment to his art has seen him state he will not entertain a relationship.
"I only have time and energy for my career and boxing," he adds. "In the future, I want to be a good dad, provide. At the moment, it's a time to become a better version of myself so when that time does come, I can be a better husband, a better father."
The application is paying off.
In his 14th win, Yarde became the first man to stop 38-fight veteran Nikola Sjekloca. Yet some point to a perceived lack of quality in his opponents.
Yarde reflects on the fact even Floyd Mayweather was a target for criticism despite retiring undefeated.
Yarde's well-groomed appearance could lead some to believe a big bank balance and fast cars are his motivation. It's more pure.
"I say to myself, until I can buy my mum's house, then buy my home, I believe we have to build properly as a family," he adds.
"The ultimate goal would be to unify a weight division and at the end of your career, go down in the hall of fame. Also, when you have a voice, you can make change, make people happy.
"We have a kid that comes to this gym who has a disability. He's my biggest fan, he's decorated his room with my face. Things like that are a drive. I can't believe how happy I make him and he comes in all the time. He is progressing and I've spoken to other kids who have turned their life around.
"They speak to me and say, 'I want to be a boss.' To hear that kind of ambition and the fact I'm helping, it's so refreshing for me."
Yarde is developing and may not yet be a "boss". But that hug from mum encapsulates a significant change.
As his team pour drinks down his throat, and with his skin glistening with sweat, this raw athlete looks to have found his path.