Gold Coast 2018: Boxer Sean Lazzerini on targeting gold - and losing a tooth
Last updated on .From the section Boxing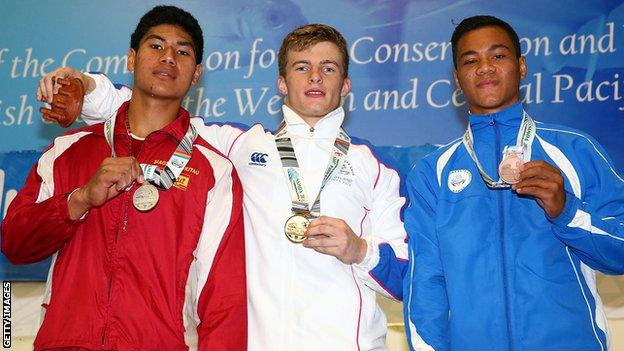 Team Scotland boxer Sean Lazzerini insists he is good enough to win gold at his first senior Commonwealth Games in Australia next month.
The 2015 Youth Commonwealth champion, 20, will compete in the 81kg division at the Gold Coast Games.
Glaswegian Lazzerini won a December box-off with Boris Crighton by unanimous decision to clinch the final spot on Team Scotland's boxing roster.
"I'm going for gold, absolutely - all the way," he told BBC Radio Scotland.
"I'm going to take it one fight at a time, do my absolute best.
"I've been to a Youth Commonwealth Games and managed to get a gold there, so hopefully I'll repeat that in the real one.
"It was a good experience to show what the Commonwealth Games would be like and what the competition would be like, but this is going to be a lot harder. We've all prepared 100% and we're going to do the business come fight night."
Lazzerini became hooked on boxing when he watched the storied Rocky Balboa film series at the age of 12.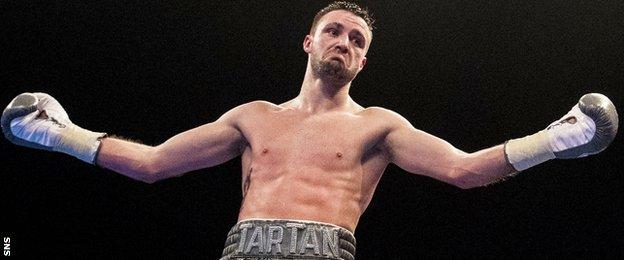 He hopes to follow such Scottish Commonwealth Games gold medalists as Josh Taylor, who has won all 12 of his super-lightweight bouts since turning professional after his triumph at Glasgow 2014, and Charlie Flynn, unbeaten in 12 professional fights with 10 wins and two draws since his lightweight victory four years ago.
"In the amateurs, this is where you get your experience and I'm still young," Lazzereini said.
"I want to finish my apprenticeship in the amateur game and see what happens with professional.
"The competition here is quite strong. I would never look past any opponent or say anyone is going to be easy. Every opponent I fight, I fight as if it's the hardest fight of my life. I'll study everyone and have a game plan for everyone."
The Bellahouston Boxing Club fighter may have a Youth Commonwealth title to show for his efforts, but lost a tooth along the way in controversial circumstances.
"I was fighting a boy in Russia and I knocked him out in the fight," Lazzerini said. "He came out and punched me afterwards - it was ages ago, like when I was 17 - and I lost my tooth.
"But I knocked him out in the ring so it was all right."