Josh Taylor fight: Getting boxers to Glasgow 'a struggle', says Barry McGuigan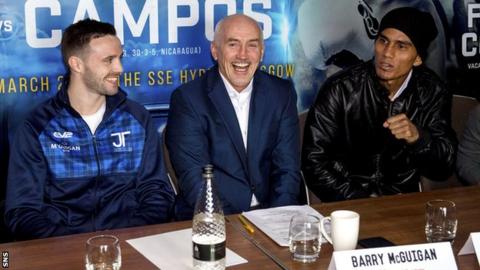 Promoter Barry McGuigan says it has been a "struggle" against the weather to get all the fighters ready for Saturday boxing at Glasgow's Hydro.
Edinburgh's Josh Taylor defends his WBC Silver Superlightweight title against Winston Campos of Nicaragua.
With another four bouts on beforehand, McGuigan says it has been a challenge to get all 10 fighters to Glasgow.
"A lot of them are stranded or in the process of getting up here slowly," said McGuigan.
"We're probably very lucky in the sense that we're probably one of the only sporting events that's taking place over the weekend - thankfully the weather has been forced south.
"But unfortunately a number of our flights and our fighters are coming into Birmingham and connecting up.
"They'll go several miles and then they're stopped, then they're cleared then they're stopped again - so it's been a bit of a struggle. But the majority of the main event fighters are here."
Despite the weather, McGuigan is encouraging people to come and watch what he thinks will be a "great night" of boxing.
"Most of the main roads are clear," said the former world champion, 57. "We'd like as many of the people who've maybe missed football matches to come and get their tickets."
Taylor, 27, was due to face Humberto Soto, but the Mexican withdrew after injuring himself in training, and so Campos was called in as a late replacement.
"He [Campos] already had been getting ready for his fight 10 days ago which was cancelled so he thought it was a very serendipitous opportunity for him to take this fight," added McGuigan. "He's very confident he thinks he's going to upset everybody here - I hope he's wrong.
"I believe [Taylor] will win tomorrow night, and I believe he will win spectacularly."