George Groves: Fighter 'confident' he will challenge for World Boxing Super Series trophy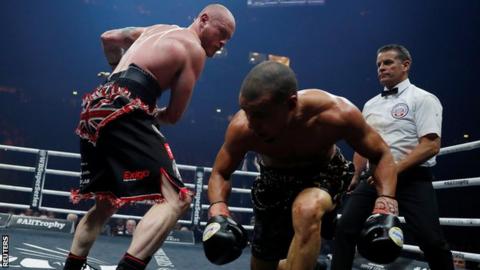 George Groves says he is "confident" he will fight in the World Boxing Super Series final on 2 June after suffering a shoulder injury in beating Chris Eubank Jr on Saturday.
Groves retained his WBA super-middleweight title with a unanimous points win, but was taken to hospital with a suspected dislocated shoulder.
"If the date needs to be changed I'm sure the tournament would decide it is better to delay it to get me into the final because it wouldn't be the same," Groves told BBC Radio 5 live.
The final will be against either fellow Briton Callum Smith or Jurgen Brahmer of Germany.
"It is vitally important to me in my boxing career to go on and achieve what is now the dream of winning the World Boxing Super Series," said Groves.
"I've worked so hard. I've had two big fights to get into the final. I need to go and see the specialist to find out what the recovery time is."
He added: "That said, 2 June might still work. We haven't had that information yet.
"The shoulder feels great after being put back in place. I'm confident that I will be challenging for the Muhammad Ali trophy. This is going to be my trophy - I want it."
Groves' trainer, Shane McGuigan described his fighter's injury as "a massive concern for the tournament" and that the 29-year-old's "health is paramount".
On Sunday, 29-year-old Groves posted on social media that there would be a "medical update on the shoulder coming soon".
After Saturday's bout at Manchester Arena, tournament promoter Kalle Sauerland confirmed British fighter Eubank Jr would be "on the list" to take Groves' place in the final.
"We have a scope for when the tournament has to be completed," Sauerland added.
"We are hopeful. With those type of injuries he could train quickly again, but no-one knows until it's been diagnosed by an expert."
In securing his place in the World Boxing Super Series final, Groves produced a composed display to keep Eubank Jr at distance, forcing the 28-year-old to leap into attacks with desperation as the fight drew to a thrilling close.
With Groves unable to hold a post-fight news conference after winning 117-112 116-112 115-113 on the judges' cards, McGuigan described the shoulder injury.
"He said it felt like it came out," said McGuigan.
"I think it happened maybe 50 seconds into the last round. There was no towel going in when you're so far up on points. He was always going to be able to survive the last two minutes.
"Eubank Jr was so fatigued because he'd been hurt, so he wasn't able to find the finishing touches - George was fully in control."
'Did I underestimate him? Maybe'
After the second defeat of his 28-fight career, Eubank Jr said Groves - who now has 28 wins from his 31 bouts - punched him harder than anyone he has faced as a professional.
He had hoped to emulate his father - Chris Eubank - in winning a recognised world title at super-middleweight, but he never looked in control against the experience of Groves and also suffered a cut above his right eye in the third round.
"It's boxing, I thought I did enough in the late rounds to nick it," said Eubank Jr, who some believe gave away about a stone in weight on the night.
"Did I underestimate him? Maybe. Did size come into it? Yes, I felt the size difference.
"I couldn't see out of my right eye for most of the fight. It affected my style. I had to resort to loading up my punches because when he moved to my right I couldn't see him."
Eubank Jr needs a coach - Bellew
Eubank Jr's father said his son "didn't perform" and described the result as "fair".
"We didn't see the best of him because he was loading up a lot," said Eubank Sr, who won world titles in two weight divisions.
"It's a cold truth. George fought the right fight. Perfect tactics."
But former WBC world cruiserweight champion Tony Bellew was critical of Eubank Jr's training set-up of his father and trainer Ronnie Davies, who Bellew thinks should have "more input".
"Once someone gives him a fight at range he's lost," Bellew told IFL TV.
"Eubank Jr is a brilliant fighter - but this isn't called fighting, it's boxing. Tonight was a brawler against a boxer.
"I think Eubank Jr was around 12st 2lbs in there and Groves I predict about 13st 2lbs. The leaning on him, the wrestling, pushing down, he was exhausted and Eubank Jr needs to go down to middleweight if he's to fulfil his potential.
"His father has been useless for him tonight. I'm a Chris Eubank Sr fan, a brilliant fighter. He's done his son a disservice. He needs a boxing coach."
'Hunger not enough in darts or boxing' - analysis
BBC boxing correspondent Mike Costello
I thought George Groves did what he does. I said before the fight that there was a greater chance of him imposing his style more than Jr.
The hunger was troubling me about Eubank Jr, they were assuming that he was the hungrier of the two. George gave me a great quote at the pre-fight press conference saying if he played a world darts champion he would be hungry to win with all his heart - but wouldn't be able to win without the ability.
We had to see if Eubank Jr could close down a moving fighter. His last three opponents stood still. That would never happen against George Groves and he didn't have the guile to break down the distance.
Callum Smith stops Groves - Bellew
Smith meets Brahmer next weekend in Germany, with the winner of June's final set to earn a share of the $50m (£35.6m) tournament prize pool and lift the Muhammad Ali Trophy.
Smith - unbeaten in 23 fights - started the competition as favourite, a success which would see him claim his first world title by taking Groves' WBA belt.
"I don't see the final happening in June," said Bellew. "Ultimately in the final, I think Callum Smith stops George Groves.
"Groves has already said the hardest fight in the tournament for him is Callum Smith - a bigger man with similar power. This tournament has been a breath of fresh air for boxing."