Tyson & Hughie Fury: Ukad spent £577,000 on legal fees
Last updated on .From the section Boxing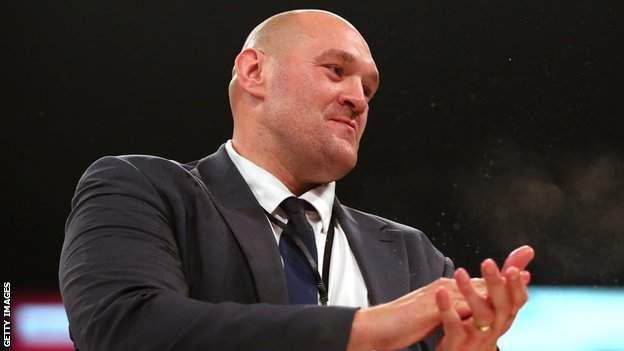 UK Anti-Doping spent almost £600,000 on legal fees in the case involving former heavyweight world champion Tyson Fury and cousin Hughie.
He tested positive for banned steroid nandrolone in February 2015, but blamed it on eating uncastrated wild boar.
Ukad, which has an annual budget of about £8m, said it spent £577,717 on legal fees.
The money was paid to solicitors for "advice" and representation when Fury and Hughie, who also tested positive, appeared before an anti-doping panel tribunal.
Ukad receives around £5m in government funding each year, raising a further £3m through commercial activity.
In November 2017 Ukad said it feared it could be made bankrupt if Tyson Fury took legal action.
However, in releasing the financial figures regarding the case on Wednesday, it said there "was never any danger that Ukad would become insolvent".
'Our legal decisions are not made for financial reasons'
Chief executive Nicole Sapstead said: "The money spent by UK Anti-Doping in the Fury case shows that if we determine there is evidence of doping, we will pursue a case against an athlete, coach or doctor, regardless of their public profile or status.
"In this case, two anti-doping rule violations were upheld and two-year bans given to each athlete."
She said Ukad is "always careful about how we spend public money" and that "legal decisions are made for the right reasons and not financial ones".
The £577,000 Ukad spent on legal fees is more than 7% of its annual budget, although it does not include the cost of hours spent working on the case by members of staff.
It is currently recovering £250,000 through its insurers.
As the costs have been accounted for, they will not affect Ukad's recent funding increase.
Fury has not fought since beating Wladimir Klitschko to win the IBF, WBA and WBO world titles in November 2015.
He is set to return this summer after his boxing licence was reinstated by the British Boxing Board of Control (BBBofC).
Ukad charged the Fury for a doping offence on 24 June 2016, the day he postponed a rematch with Klitschko because of an ankle injury.
Later that year, Fury postponed a rescheduled bout with Klitschko and said he had been taking cocaine to help battle depression.
The BBBofC suspended his licence to compete, a move it lifted in January 2017.