Lawrence Okolie v Isaac Chamberlain: A 12-month journey to top of the bill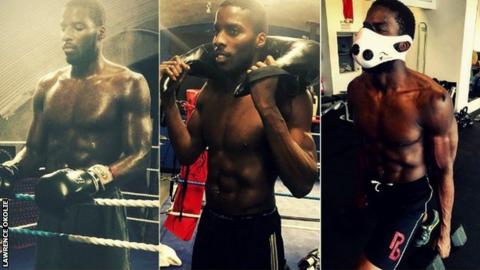 "As soon as you turn pro, you're getting messages saying you're a bum, you won't amount to anything."
Lawrence Okolie gave up the security of a steady wage from Great Britain Boxing as an amateur to turn professional a year ago.
Poised sound-bites complemented by crushing knockouts have helped him navigate the choppy waters of pro life admirably, so much so that on Saturday - in just his eighth fight - he tops the bill against undefeated London rival Isaac Chamberlain at O2 Arena.
The feud between the pair has become intense. Such public distaste is a new dynamic for Okolie to deal with in these early throes of his journey.
As he explained to BBC Sport, a year as a pro has highlighted boxing's risks and rewards.
No more set salary...
"It's 100% a bigger risk to turn pro than people think," 25-year-old Okolie told BBC Sport.
The cruiserweight made the jump after competing at the Rio 2016 Olympics. The former McDonald's employee - once diagnosed as clinically obese - rolled the dice to sign with promoter Eddie Hearn in January 2017.
The £28,000-a-year salary he earned as part of the GB Boxing squad was gone, as was his access to paid-for accommodation and free coaching at the Olympic squad's state-of-the-art Sheffield base.
"It's less risk to stay there but then there's a glass ceiling," added Okolie. "You can win a gold medal, maybe another, huge accomplishments but it stops there.
"As a pro, you risk not being paid if you're injured, maybe losing, and then there's whether the public hate you? There are a lot of risks as a pro but a great reward.
"One of the main things on the GB team is you have multiple coaches. They can each give you their own bit of experience which combines to make years and years of experience. Any injury you get they've seen before. If you're tired, nervous, whatever, they have people who have seen it all before and are there on tap to coach you through it.
"The difference is when you turn pro, you have to build and pay for that team around you."
'You're a bum' - the hate game
Okolie has built his team with some help from his management company AJ Boxing - headed by IBF and WBA world heavyweight champion Anthony Joshua. He has a general boxing trainer, a strength and conditioning coach, a physio and a nutritionist to call upon.
He feels he is thriving with the "freedom" he has in being able to tailor his training, rather than train as part of a team. There's an admission he misses sharing the same goals as the GB team members but, ultimately, Okolie believes he is handling the "individuality" of being a pro.
A record of seven wins from seven fights - six via stoppage - backs up his claim, but there's a flip side to individuality.
"When you're on the GB team people are like: 'Go on, do it for Team GB, do it for the Queen, do it for the nation,'" adds Okolie. "You get support from everyone. No-one wishes you any evil.
"As you soon as you turn pro, you're getting messages saying 'you're a bum', 'you won't amount to anything'. I'm like 'wow, why am I being sent this stuff?' A year in, I'm a bit more accustomed to it."
Public opinion can change fast and with little reason, an unsettling experience for a novice pro dealing with change and new levels of scrutiny.
"I think it's something to do with earning money," says Okolie, after a brief moment to ponder. "Pro boxing is glamorised somewhat, they think I'm earning millions. People therefore think they can tell you what they think. Fair enough. If you can't take it it's the wrong game for you."
The fear of complacency
It perhaps helps that Okolie has dealt with harsh words before - he has been open about the fact he was bullied during his school years for being overweight.
Critics point to what they perceive as his weak opponents so far but neglect the subtle learning curves life in the paid ranks throw up.
There have been nights when Okolie was meant to compete but didn't due to scheduling issues. There have been nights where he has waited, warmed up several times, and finally got in the ring after the main event has taken place, after the cameras have stopped rolling.
And now, a new lesson - a public rivalry as Hackney's Okolie meets Brixton's Chamberlain. This, undoubtedly, is a big step up.
"When you've been doing it as an amateur at a high level against good quality, you almost don't want to lose that sharpness," adds Okolie.
"The punches against some people are not timed as well, not as clever, so you don't want to become complacent and you're scared you may do.
"There's a danger you fight people, take a few shots and think they're not hurting you, then you get in the ring with someone who does hurt you."
Chamberlain really wants to inflict that pain.
The 23-year-old has his own mental coach and has sought weakness in Okolie's mind - notably when taking out an advert in the Hackney Gazette to market Okolie for work after the bout.
"He will not fall over, he will keep fighting," adds Okolie. "I want to show I can knock out someone who really has something to fight for."
'This wasn't just given to me'
Promoter Hearn points to a pressure on Okolie given the Olympic pedigree he boasts over a rival without one.
Chamberlain has walked his own battle for headline status, none more so than when he scored a points win over Wadi Camacho in his sixth fight despite dislocating his shoulder during the bout.
His uncle and trainer has threatened to quit the sport if his fighter loses, such is confidence in camp. Never before has Okolie faced such hostility as a pro. If he is to reach the very top, events like this will provide crucial experience he can call upon in the future.
"They say that everything has been given to me," adds Okolie. "They say I've had an easy ride, but Eddie Hearn didn't come to Hackney and take me out of McDonald's, take me to Team GB then take me to Rio for the Olympics.
"The rivalry gives me a mix of emotions. I love the hype and being centre of attention because while you're in the ring all eyes are on you. But then, in terms of extra pressure, absolutely it is there.
"Then I see AJ selling 70,000 tickets and I think really, when you look at it, there are levels to pressure.
"This fight just increases the risk and the reward."
Risk and reward. The basis for Okolie's decision to turn pro is revisited. It is a theme which runs through boxing match-making. Win against Chamberlain and bigger rewards will present themselves. Lose and the critics will flock.