Mike Costello: Anthony Joshua and Tyson Fury share more than a rivalry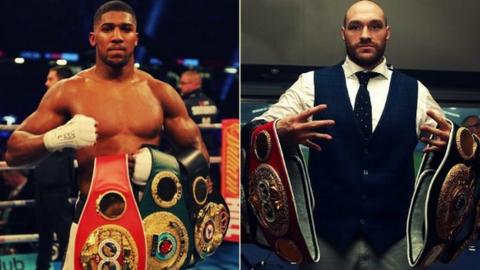 "I tell you what, he's very, very, very good. Watch out for that name, Anthony Joshua, he's one prospect for the future."
Maybe it takes one to know one. Maybe Tyson Fury knew what was coming.
He was speaking to Steve Bunce on BBC London in September 2010 and, as Fury maps out his return to the ring after an absence of more than two years, the comments will add to an already compelling narrative for any showdown between the one-time sparring partners.
But the recollection serves also as a reminder of the length of the winding road to glory and an affirmation that fighters' paths are so often interwoven.
For all the coverage of their recent 'barneys' on social media platforms, the exchanges long ago at Finchley Amateur Boxing Club in north London are destined to be revived and scrutinised in greater detail to determine their relevance, if any.
Back then, Joshua had won the first of his two ABA (Amateur Boxing Association) national titles earlier in the year and was in contention to represent England at the Commonwealth Games in India.
Fury was unbeaten in 11 professional fights and, in need of quality sparring, ventured to London from his home in Lancaster.
"I thought to myself, 'I'm gonna take it easy cos he's only an amateur and he probably won't spar (with me) again if I go mad'," recalled Fury.
"He rushed out at me, he threw a one-two and a left hook and I tried to slip and slide and I thought, 'Ah he's not so good, I'm gonna take my time'. And then 'bash', he hit me with a big uppercut on the point of the chin. If I'd have had a bit of a weak chin like David Price, I'd have been knocked out for a month."
Fury, 22 at the time, continued in confident and candid mood: "I rate myself as one of the top heavyweights in the world - he came at me for three rounds and he gave me a beating. I'm not going to deny it.
"I don't mind telling anyone that he beat me up in sparring."
Perhaps mindful that they might bump into each other in the future, Fury went on to report that he slowed Joshua down with "a few body shots", adding: "Sparring ain't fighting. And fighting (sparring) with a headguard on is not professional boxing is it?"
The uppercut Fury referred to has become one of Joshua's calling cards, with right-hand deliveries bringing about the end of Dillian Whyte's resistance in 2015 and setting up the final onslaught against Wladimir Klitschko at Wembley Stadium last year.
Fury's mention of David Price is also instructive. At the time, Price was a highly-regarded Olympic bronze medallist with a record showing seven straight wins a pro. He had outpointed Fury in the amateur ranks in 2006 and a trawl through the online boxing forums of six and seven years ago reveals a general consensus that Price would have repeated the dose in the pros, had they met.
Joshua never got to the Commonwealth Games, which opened a month after his sparring session with Fury. England's berth at super-heavyweight was filled instead by Amin Isa, who was beaten in his first contest in Delhi by the eventual bronze medallist, Junior Fa of Tonga.
In the other half of the draw was the man Joshua faces next in Cardiff on 31 March.
Joseph Parker was considered an unlucky loser in the quarter-finals against Tariq Abdul Haqq of Trinidad and Tobago, a close points reverse costing the New Zealander a certain medal.
Parker and the Tongan Fa would meet two years later in the Oceania Olympic qualifier in Canberra, with Fa winning on the scorecards to deny Parker a place at London 2012.
Fa, like Joshua and Parker, is unbeaten as a professional and with the backing of the American promoter Lou DiBella (who also guides the career of the WBC champion Deontay Wilder), Fa might soon appear on the world championship radar.
Tracing the pedigree of leading boxers can be fascinatingly labyrinthine. A decade ago, Fury was winning the 2008 ABA Championship final at York Hall. Others crowned national champion on the same May night in east London were George Groves, Liam Smith, Luke Campbell and Anthony Ogogo, with the current British super-middleweight title-holder Rocky Fielding a beaten finalist.
Joshua was a relatively late starter and, six months on, his first amateur foray was covered by Boxing News magazine: "Finchley ABC hosted an action-packed evening of boxing on Thursday 27, November at the Boston Arms, Tufnell Park. The seniors produced several thrilling displays, none more so than Finchley's Anthony Joshua, who on his debut left the ring to a new set of fans after stopping his opponent, Minateur's Nathan Brede, in the first round. The 18-year-old used his considerable 6ft 6ins frame to maximum effect as he twice forced his man to a standing count before the referee came between them."
In only his third contest in the blue-and-white singlet of Finchley, Joshua was floored and outpointed by the more experienced Whyte, who reminisced with glee in the build-up to their subsequent meeting in the pro ring.
Joshua prevailed in the 'rematch' with that wicked uppercut-finish in the seventh round at the O2 Arena in London. Coming two weeks after Fury's masterful world-title-winning performance against Klitschko in Dusseldorf, it amplified the calls for a Fury-Joshua shootout.
Fury's showing against Klitschko is used by many as a reference point in predicting the outcome of a clash with Joshua. The theory goes that Fury's footwork and his ability to read opponents' intentions will leave Joshua connecting only with shadows.
But how much of that natural instinct remains? And won't Joshua be a more accomplished operator by fight time, given his remarkable rate of development dating all the way back to that night at the Boston Arms?
They are separated by a gulf in personality and in fighting styles but they are only 14 months apart in age.
And there is that connection forged at Finchley ABC seven-and-a-half years ago - one that only they can evaluate.