Tony Bellew talks David Haye, Oleksandr Usyk and drug cheats with 5 live boxing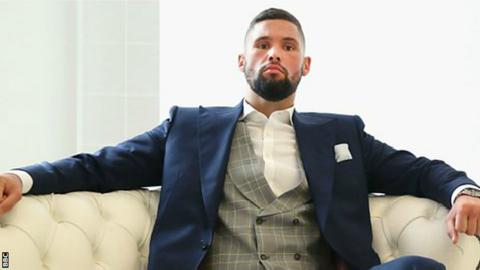 Tony Bellew says his dream of fighting for a world heavyweight title is over and is targeting all four cruiserweight titles after his rematch with David Haye on 5 May.
The 35-year-old former WBC world cruiserweight champion stepped up to heavyweight to beat Haye in March 2017.
By this summer, the cruiserweight division will have a unified champion as the winner of the World Boxing Super Series will hold all four titles.
"Whoever comes through the cruiserweights, I will face for all those belts," Bellew told BBC Sport.
'Heavyweight dream is over'
In a wide-ranging interview conducted at his home on the outskirts of Liverpool for the BBC Radio 5 live boxing podcast, Bellew discussed his feud with fellow Briton Haye, his future options and expressed his "disgust" at fighters previously banned for doping now fighting for world titles.
Bellew believes his wait for Haye to recover from a biceps injury that delayed their December rematch has thwarted his shot at WBO world heavyweight champion Joseph Parker, who faces WBA and IBF title holder Anthony Joshua on 31 March.
"My plan was to beat Haye and go for Joseph Parker, who I believed I could beat," Bellew said.
"Now I have to look past fighting the heavyweight champion of the world now, the dream isn't going to come true.
"I believe Joshua will defeat Parker and I'm not touching the WBC heavyweight champion Deontay Wilder, no chance in this world. He's huge and I'm not going anywhere near Joshua. These modern-day heavyweights are just too big."
Cruiserweight clean sweep before retirement?
Bellew was a heavy underdog when he upset Haye at London's O2 Arena as he stepped up from cruiserweight - where the limit is 14st 4lbs - to the unlimited heavyweight division for the first time in a 32-fight professional career which has featured just two defeats.
As he left the cruiserweight division as WBC champion, the organisation gave him an 'Emeritus' title, meaning he can return to challenge their champion.
But while Bellew focused on Haye, two weight classes - cruiserweight and super-middleweight - were chosen to be part of the first World Boxing Super Series tournament, which began late in 2017.
He turned down the chance to enter the knockout format, which will result in one man holding all four titles at cruiserweight. Ukraine's undefeated Oleksandr Usyk reached the final last weekend and will face either Russia's Murat Gassiev or Cuban Yunier Dorticos before the summer.
Bellew hinted that landing all four titles would be his last fight, calling it a "fitting way for mission complete".
"I still very much believe it is my division," added Bellew, nicknamed 'The Bomber'. "I still see myself as a cruiserweight and there's a huge opportunity available for me there.
"This World Boxing Super Series has been a breath of fresh air.
"Hopefully Usyk comes through the final and I am happy to face him. I am 100% certain I could find a way to beat him and it would be very hard. If I say 'Usyk I want my WBC belt back', he has to face me or lose it."
'Time out of the ring is a worry'
Bellew told BBC boxing correspondent Mike Costello that he regularly wakes during the night while he trains for his next fight and the first thing he thinks about is Haye.
He says he had "a headache for four days after the first fight", which proved controversial throughout. Not only did the fighters share a rivalry filled with bad blood in the build-up but Haye sustained an Achilles injury on his way to a stoppage defeat.
It would require surgery, as did his biceps issue later in the year, forcing Bellew to remain inactive for the longest spell of his professional career.
"I will have not thrown a punch in a ring with 10oz gloves on for the best part of 18 months and, I'll be honest, that is a bit of a worry," he said.
"That will benefit David Haye more than it will me as he's used to having lay-offs.
"He's the guy with the injuries that need to heal. I will say this, if it happens again and has to be rearranged, I will not entertain it. I have always wanted the fight but it was very hard to schedule this again.
"The only saving grace was that mentally I was not in a good place for December. I'd lost my brother-in-law and it's been a hard time, a devastating time for me and my family."
'Do your job - ban them for life'
Bellew was a three-time English amateur champion at heavyweight but has operated at light-heavyweight, cruiserweight and heavyweight in his 11-year professional career.
His journey through the sport equips him with "an opinion on everything" and he is glowing in his praise for Joshua - who he says "runs" boxing.
But Bellew is angry at others with claims to world title shots in the heavyweight division.
Russia's Alexander Povetkin has twice received bans for failed drugs tests but is now the WBA's mandatory challenger for Joshua's title, while Cuban Luis Ortiz will challenge Wilder for the WBC title in March despite testing positive for a banned substance in 2017.
Great Britain's Tyson Fury also accepted a backdated two-year ban from UK Anti-Doping in December and argued the adverse test results came from eating uncastrated wild boar.
"It disgusts me what's going on in boxing," Bellew added.
"Once someone fails for performance-enhancing drugs and it is steroids, if it's proven without a shadow of a doubt they have been injecting steroids, ban the first guy for life.
"Once that first guy is banned for life, you will get the reaction you need.
"I don't ever want it to get to the stage where a man dies in the ring at the hands of a drugs cheat, believe me, boxing will come under the worst scrutiny. We've seen people call to stop boxing before.
"I know boxing is dangerous but it is 10 times more dangerous if one guy is on performance-enhancing drugs. The governing bodies out there, do your job, ban them for life."