Isaac Chamberlain takes out advert for opponent Lawrence Okolie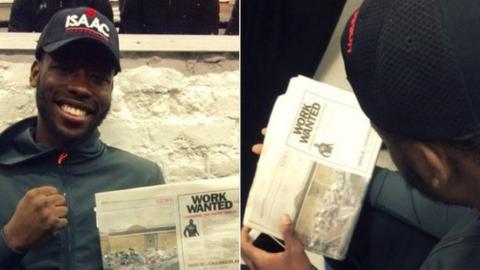 British cruiserweight Isaac Chamberlain has used rival Lawrence Okolie's local newspaper to advertise the 2016 Olympian as being available for work after their forthcoming fight.
The undefeated pair face one another at London's O2 Arena on 3 February.
Chamberlain, 23, took out a 'work wanted' advert in the Hackney Gazette.
Employers are told Okolie, at 6ft 5in, will be good at stacking shelves and after being knocked out by Chamberlain will be able to count to 10.
Chamberlain says he hopes the advert will help Okolie earn the money needed to follow the former's career at sold out venues around the world.
Okolie, 25, worked at McDonald's before breaking into the Great Britain boxing squad.
His previous role is noted in Chamberlain's advert under 'references', where a quote from company mascot Ronald McDonald reads: "Excelled in his position. It was good to have another clown around."
Hackney-born Okolie's last-16 exit at the Rio Games is also mocked, with the advert stating under 'previous experience': "Turned up at the Olympics, went home from the Olympics. Nice holiday though."
The bout will be Okolie's first at the top of the bill since turning professional early in 2017. He holds a record of seven wins from seven fights, while Chamberlain has nine wins from nine.