Tyson Fury: British Boxing Board of Control agrees to lift suspension
Last updated on .From the section Boxing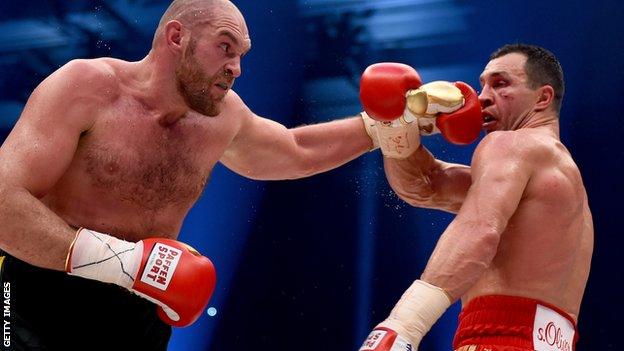 British boxing chiefs have met with Tyson Fury and say they will reinstate his licence to fight once they receive up-to-date medical records.
The British Boxing Board of Control (BBBofC) suspended Fury in 2016 owing to "anti-doping and medical issues".
The 29-year-old accepted a backdated two-year anti-doping ban in December.
He was interviewed by the BBBofC on Friday when the body agreed to lift his suspension, paving the way for a return to the ring in the coming months.
In suspending Fury in 2016, the BBBofC pointed to Fury's health as he had admitted to using cocaine in order to help him battle depression.
But the BBBofC's will to reinstate his licence is a noteworthy step as in October Fury said he would not seek a licence from them, prompting speculation he may seek one from an overseas sanctioning body.
On Friday, the BBBofC said: "Following interview with Tyson Fury at the British Boxing Board of Control offices earlier today, the suspension of his British Boxing Board of Control boxer's licence will be lifted subject to receipt and clearance of all medical requirements."
What now? Helping Joseph Parker?
Fury has made no secret of his need to lose weight before he can compete for the first time since he claimed the IBF, WBA and WBO world titles from Wladimir Klitshcko in 2015 - the Ukraine fighter's first defeat in 11 years.
He has also parted ways with the man who trained him to the win - his uncle Peter Fury.
Instead, Fury is now working under the guidance of Ben Davison as he looks to ready himself for a comeback before the summer.
The former champion has repeatedly referenced April as his target for a return, as he plots a route to fight the division's biggest names.
The landscape of the division will change on 31 March when IBF and WBA champion Anthony Joshua meets WBO title holder Joseph Parker in a unification bout.
On Thursday, Fury offered to assist Parker in his preparation, tweeting the New Zealand Fighter: "If you want I'll come spar you when [you're] in the UK training for the fight. It will help both me and you. You won't find better sparring than me I promise you. Let me know pal?"