Floyd Mayweather v Conor McGregor generated more than £450m
Last updated on .From the section Boxing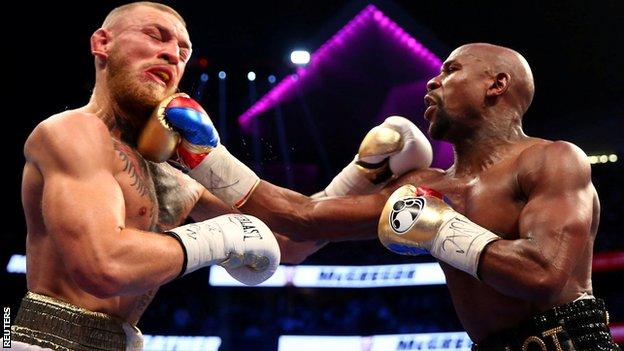 Floyd Mayweather and Conor McGregor's much-hyped Las Vegas boxing match generated more than £450m.
It made 4.3m pay-per-view buys in North America, second only to Mayweather and Manny Pacquiao's 4.6m in 2015.
Showtime added that global revenues, including ticket sales, sponsorship and international distribution, exceeded $600m (£450.42m).
"The pairing of Floyd Mayweather and Conor McGregor brought together two very significant and distinct global fan bases in one truly unprecedented event," Showtime Sports chief Stephen Espinoza told ESPN.
"The remarkable results are all the more impressive considering that the planning, marketing and execution took place across a span of just 72 days from the initial announcement to fight night."