Hatton v Mayweather: Cult following, perfect enemies & dealing with defeat
Last updated on .From the section Boxing73
"Floyd was offering the pilot money to overtake us. Crazy. But that's Floyd Mayweather for you."
Ten years on, Ricky Hatton is reflecting on his fight with Floyd Mayweather in Las Vegas on 8 December 2007.
There is frustration, yes, but also pride as he looks back at a world tour during which his rival looked to gain an edge at 35,000 feet and a fight week where Hatton's army of fans drank the MGM Grand dry.
Indeed it could be argued that no other British fighter has garnered a travelling following of the same mass with a depth of feeling not lost on Hatton to this day.
But why has no-one replicated the 'wonderland' he created?
Here, with Hatton's help, BBC Sport looks for answers, and revisits some colourful memories from a fight which captivated millions.
'People believed they could be him'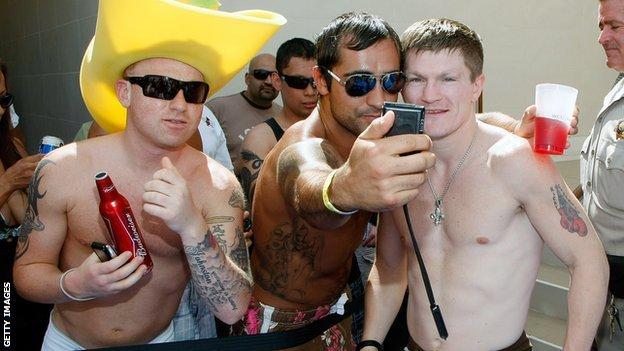 More than 30,000 British fans descended on Las Vegas before Hatton and Mayweather stepped in the ring.
'The Hitman' - who had built his reputation with three consecutive wins in the US - had come a long way in the 10 years since his professional debut at Widnes' Kingsway Leisure Centre.
Fellow Britons Joe Calzaghe, Carl Froch and George Groves have since filled stadiums, while Anthony Joshua has broken attendance records domestically, but to take such numbers overseas is a different matter entirely.
There were no corporate gimmicks to tempt money from the wallets of those attached to him, and trash-talking was left to rivals.
"It's a little bit old hat, the selling, the talking, the slagging off," Hatton, 39, tells BBC Sport.
"Sometimes you see people in boxing these days with the gift of the gab saying what they can, name calling to shift tickets. I was one who never did anything like that and I shifted more tickets than anyone.
"If you remain down-to-earth, humble, respectful and do it with a twinkle in your eye, some wit, some charity work, I think that's what the public prefer to see.
"I go to the boxing, I go to the football, I go to the pub, I play darts for the local team and football for the local team. I was no different to my fans and that's what they liked."
The formula seems almost too simple. Yet it worked in a way no-one has managed since. It drew in Hollywood too, with actors Brad Pitt and Sylvester Stallone among those to visit Hatton's notoriously rowdy changing room during his career.
BBC Sport boxing correspondent Mike Costello believes the link with the common man ran deep, but points to another key element to the Manchester fighter's draw.
"Everyone who followed him believed they could be him," says Costello.
"You'd see him in the Las Vegas bars the night after the fight buying people a drink. But you have to ally that with his style. If the opponent was prepared to play ball, it was an almost guaranteed war."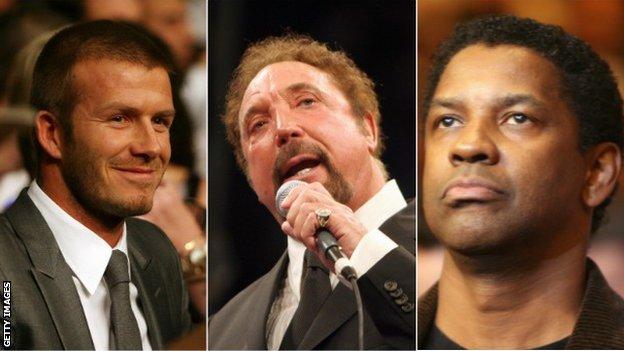 Where better to take over?
Hatton loves 'Sin City'.
He has holidayed in the city and watched fights there, once posing as a competition winner to gain access to a party thrown by Oasis - his favourite band - when he was initially denied entry.
A boxing historian, it was his dream to make the Vegas Strip his own. He did so - to the backdrop of a song titled Walking in a Hatton Wonderland.
Costello says: "The great boxing writer Bert Sugar turned to me and said: 'When will they stop singing that song?'
"One guy working at customs told me 29,000 people had already filtered through and he just shook his head.
"I'm paraphrasing, but a writer in the Las Vegas Review Journal wrote something like: 'We love this guy so much I think customs will block him to stop him leaving.'"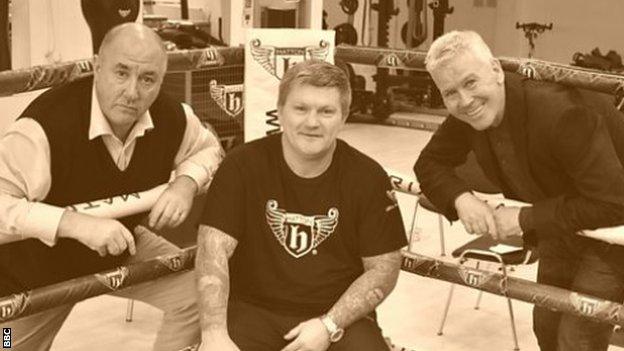 On the eve of the fight, Costello was challenged by 5 live analyst Steve Bunce to walk along a queue which had formed from 3am for the public weigh-in and find someone who did not have a story about a chance meeting or special link with Hatton. He gave up after the first half-dozen or so.
"Even the people who weren't there had a story and said they were there. It's become like the football World Cup final in 1966," adds Costello.
Hatton says if he had access to a time machine he would return to Las Vegas that week as a punter, not top-of-the-bill fighter.
"I'd have loved to have been a fly on the wall," he says. "So many people tell me about the time they had.
"I knew how many were there but I didn't see the carry-on. It would have been right up my street. The camping out for the weigh-in, the MGM Grand running out of beer. I'd love to have seen it first hand."
Plane racing and 'Money versus darts'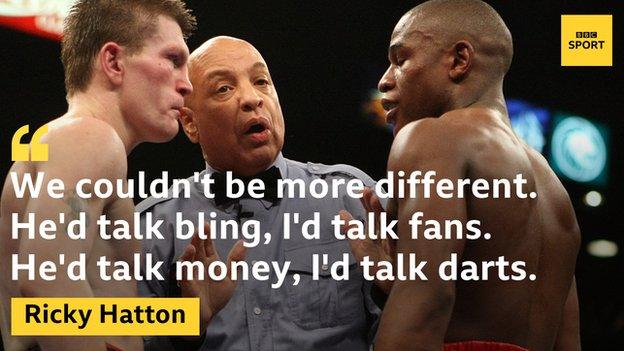 Of course, Hatton missed the shenanigans because he was locked away in the days leading up to the biggest test of his career.
His training camp left nothing to chance as he dropped to his fighting weight under the expert guidance of renowned nutritionist Kerry Kayes.
Three meals a day were replaced by six smaller ones - making them easier to burn off - while supplements delivered as much protein in 270 calories as 1,000 calories of food would.
Away from the strains of the weight cut, the hype job to sell the meeting of two undefeated fighters was straightforward, with pantomime villain Mayweather offering a perfect contrast during a five-stop promotional tour which took in Los Angeles, Michigan, New York, London and Manchester.
"We had our own jet," says Hatton. "I never thought I'd be using those words.
"On our plane, the pilot called me and told me to listen over the radio. Floyd was offering the pilot money to overtake us."
During the tour, Mayweather also burst into a diner where Hatton was sharing lunch with friends and threw money in the air to cover the cost. Hatton claims he used it and pocketed the change.
"He was trying to get at me with his talk," adds Hatton. "We couldn't be any more different. He'd talk bling, I'd talk fans. He'd talk money, I'd talk about playing darts. It was night and day."
In the tour's Manchester finale, Mayweather donned a Manchester United shirt in an attempt to goad Manchester City fan Hatton and those in his following of a blue persuasion. 'Money' stormed off stage to a cacophony of heckles.
Costello says: "When the fight came around, it hit me because people at home were texting me all week long wishing me well. It stopped me in my tracks because I realised that everyone cared about this fight.
"About one million people paid for it at 5am in the UK. People talk about the halcyon days where Nigel Benn faced Chris Eubank on terrestrial TV and, of course, those numbers will not be beaten. But at 5am, if you put that into context, it is remarkable."
Defeat, tears and Sports Personality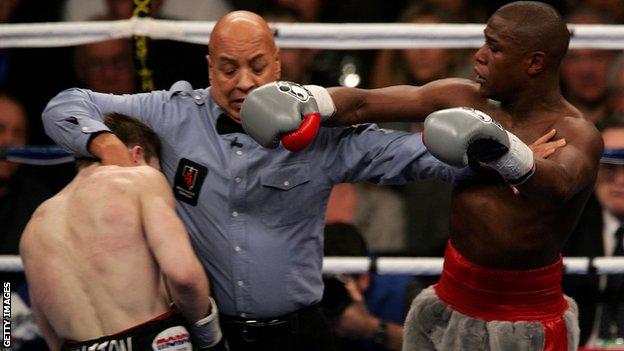 The fight ended in the 10th round when Hatton was floored with two big lefts and a devastating hook.
Hatton has since praised the American's elusive style, saying even a handful of confetti thrown at the undefeated fighter may not have touched him.
But he feels let down by the officiating, and was frustrated referee Joe Cortez repeatedly asked both men to break when the fight was up close, where the Briton wanted it.
There were tears after the fight, but private reflection was curtailed the following morning as Hatton had to return to the arena to appear via video link on the BBC's Sports Personality of the Year show. He finished third, behind fellow boxer Calzaghe and Formula 1's Lewis Hamilton.
Costello says watching Lennox Lewis present the award - in an almost empty arena - was "surreal".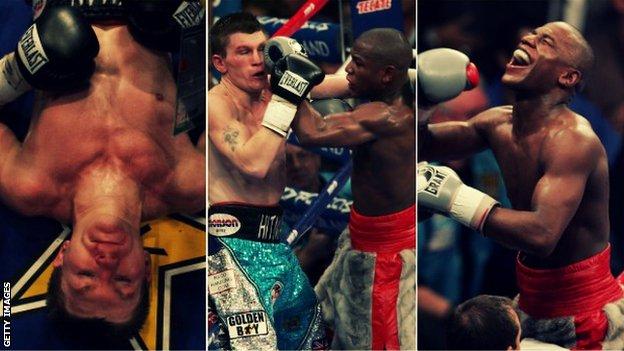 "Ricky was deeply affected, a first career loss," says Costello. "He thought he could wear Mayweather down and between adrenaline, sadness and maybe a drink or two I doubt he'd had any sleep."
Hatton would return to the ring six months later - beating Juan Lazcano, then Paulie Malignaggi - but defeat by Manny Pacquiao ushered in retirement, before a brief return.
He was in a lonely place, battling depression, and attempted to take his own life several times.
Did being someone the public felt close to aid him, or prey on much-needed privacy?
"The defeats hit me hard and I struggled to come back from them," he says. "It nearly cost me my life. I'd fallen out with my mum and dad at the time.
"I couldn't go anywhere without someone trying to give me a hug or a pat on the back so the fans did help me through those tricky times."
'I look back with pride'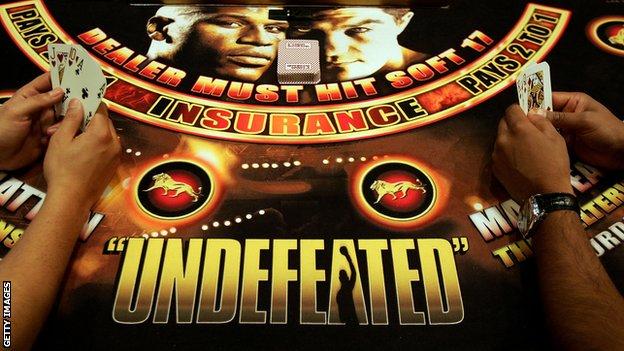 Hatton made such an impact in Vegas he has had some of his subsequent bills settled by resorts he has stayed in as a thank you.
The highs initially proved hard to leave behind but now, with a busy career as a trainer of world-level fighters, he has closure.
"I never used to like watching the fights because I didn't want to retire," he says. "Now I have things in my life.
"I look back with pride, not disappointment. Even the Mayweather defeat - it was such an occasion and it was against the best.
"Las Vegas... how many stars have had their name up in lights? Mayweather is one of them. But you can't get near them.
"I'd go in the bar, have pictures, get a coffee and ask lads where they were over from. Even the Brits were looking at me like I was not all there. But to Las Vegas people, who were used to seeing stars you can't get near, I was the opposite."
And, as British boxing waits on its next cult hero, it is that openness that seems key to anyone hoping to match Hatton's popularity.
Fans sang about there being 'Only one Ricky Hatton' - and each of them felt they owned a slice of him.