David Haye v Tony Bellew: Rematch postponed after Haye's 'freak' accident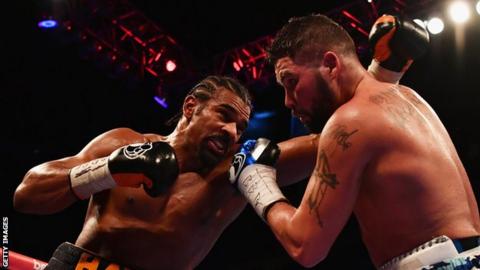 David Haye's heavyweight rematch with fellow Briton Tony Bellew has been postponed after Haye slipped on the stairs in a "freak" training accident.
Haye, who has had surgery for a torn biceps, said he was "devastated".
WBC cruiserweight world champion Bellew, 34, stopped former heavyweight world champion Haye, 37, in the 11th round of their fight in March.
The rematch, a sell-out scheduled for 17 December at the 02 Arena in London, will be held on 24 March or 5 May 2018.
Haye was injured during training on 16 November.
"After a freak accident during a stair conditioning session, which I've done with no incident hundreds of times, I lost my footing and slipped," he said.
"I instinctively grabbed the banister to stop myself toppling down the stairwell. In doing so I somehow managed to damage my biceps.
"I underwent a procedure to repair it; this was pretty straightforward and my doctor and physiotherapist have no doubt that not only will I make a full recovery but will be able to be back in the gym to start my arm rehabilitation in two weeks.
"I would like to apologise to Tony, his family and his training team, as well as all our fans who have been left disappointed."
Analysis
Steve Bunce, BBC Radio 5 live boxing pundit
This is the latest injury for David Haye - just about everything has gone wrong with him. He's been boxing for 25 years and it takes its toll on everybody.
Every time he has fought in the last 10 years he has hurt himself, he has pulled out of some monumental fights. He has to be so careful when he trains because when he was younger, he didn't.
He is desperate to fight, to put right a wrong which he considers the last Bellew fight - and he wants a £6m, £7m or £8m payday with Anthony Joshua.
Bellew will be crushed, he's had a long camp and I don't think he will take another fight. He will give Haye until the New Year. He wants that fight. It will make him a lot of money and Bellew is convinced he will win.