Josh Taylor: Scot wants European title fight after Miguel Vazquez victory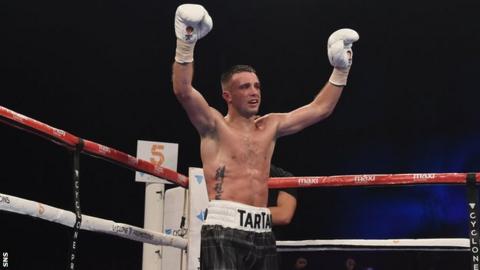 Josh Taylor has targeted the European title after making a "massive statement" by becoming the first fighter to stop Mexican Miguel Vazquez.
The 26-year-old Scot's ninth-round body shot stopped former IBF lightweight champion Vazquez for the first time in 45 fights.
"He was tough and it was the hardest test of my career so far," Taylor said.
"I think I'd like to go for maybe a European title first and then see what's happening after that."
Taylor took his record to 11 wins from 11 professional bouts on Saturday in Edinburgh, retaining his WBC silver super-lightweight belt in the process, and now has his eye on a bout with Sweden's European champion Anthony Yigit before a world title tilt.
And the Scot reckons beating Vazquez, who was a world champions for more than four years, will ensure the rest of the boxing world is now taking notice.
"He was very tough, very awkward and hard to hit clean," Taylor added.
"I was getting a wee bit frustrated with myself, but once I relaxed and stopped trying too hard I started to get the shots off and got him out of there.
"So I am really happy. That is the first time he has ever been stopped to that is a massive statement for me to make in the 140lb scene.
"I was hitting him clean with some decent shots but he was recovering really well so I knew I had to start going downstairs to hurt him and slow him down a bit.
'It was a remarkable performance'
"Without wanting to sound big-headed, I was 100% confident in my own ability, I knew I could get him out of there."
Promoter Barry McGuigan agreed with Taylor's assessment.
"He wasn't perfect tonight but he had to show his robustness and toughness," the former world champion said.
"It was a spectacular finish and what he did to that guy, no-one has ever done before. That is a huge statement and all the governing bodies should be looking at this guy.
"I knew it was going to be nigh on impossible to look slick against Miguel Vazquez because he is so tricky and awkward, and incredibly tough. It was a remarkable performance for his 11th fight.
"It sends a very emphatic message that this kid is one of the best 140lb fighters in the world, if not the best."
McGuigan and his son Shane, Taylor's trainer, agreed that fighting for the British belt would be a step back for the Scot, who again expressed his desire to one day fight at Edinburgh Castle.
"I'll leave it to the man here [McGuigan] to decide what route I go," Taylor added. "I'm confident in my own ability, I'm going to win a world title, so I leave it to him.
"My dream is to fight at the castle on a good summer's nights, but we're never guaranteed the weather so it could be a disaster. That would be an iconic scene and one for the history books."