Scotland's Josh Taylor hopes a win over Miguel Vazquez leads to title shot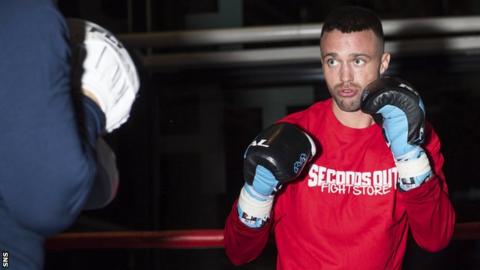 Josh Taylor believes beating Mexico's Miguel Vazquez on Saturday would put him within touching distance of a super lightweight world title shot.
The Scot, who has a perfect record from his first 10 professional bouts, meets the experienced Vazquez in Edinburgh.
"If I win this on Saturday it definitely puts my name into the world and to be seen," Taylor said.
"If I win and put on a performance, and make a statement, I can definitely put myself in the title chase."
The 26-year-old from Prestonpans knows he is facing the toughest fight of his career so far, and is happy to go into it as a slight unknown.
"I kind of like it that way (to go under the radar)," he added. "You see a lot of fighters being over-hyped and over-backed, they get put into a big fight and they get beaten. That's not what I want.
"I'm coming in under the radar, I believe in my own ability, I believe I'm good enough to be in with anybody and good enough to be world champion.
"I like it being that way and quietly going about my business, because once I'm world champion everyone will know who I am anyway."
Taylor stopped Ohara Davies in the seventh round of his last outing in July to add the WBC Silver belt to his Commonwealth title.
And the Scot knows he faces a very different test on Saturday.
"I'm expecting a tricky night," he added. "I've watched a few of his fights and he always manoeuvres opponents around the ring.
"It is definitely (a new challenge). To be the best in the world you've got to face every single style you come across, and adapt and adjust to every style. I believe I have the ability to do that.
"This guy I have nothing but respect for but as soon as that first bell rings, I'll be trying to take his head off and the same for him."