George Groves' promoter Kalle Sauerland calls for police presence at fights
Last updated on .From the section Boxing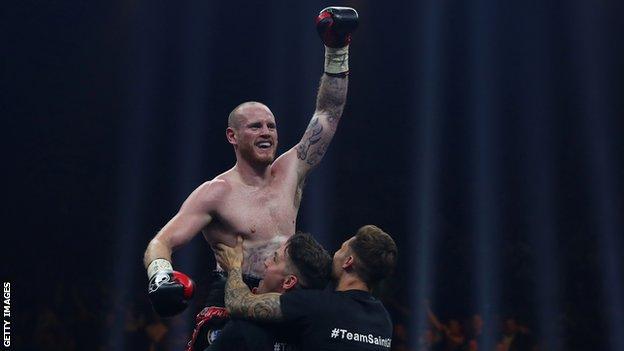 Police should be deployed inside boxing arenas to halt the "trend" of brawls between fans at fights, according to leading promoter Kalle Sauerland.
On the same day, a 19-year-old man died after "large-scale disorder" at a fight in Walsall.
Sauerland, who promotes Groves, said such violence would be "stamped out" if police officers were present.
"It's something we need to address. A police presence is a must," he told the BBC's 5 live Boxing with Costello and Bunce.
"I'm not saying it will always deter, but it certainly minimises the risk, just the presence."
Sauerland said he was told at a security debrief following Groves' World Boxing Super Series quarter-final victory that one disturbance was caused by a clash between rival football fans.
"There were two well-known London firms - obviously one which plays close to Wembley Arena [Tottenham, who were at home on Saturday] and George is a Chelsea supporter so I think that is what most likely went on there."
And he pointed to an experience in Germany as an example of how effective policing within arenas can be.
"We had a fight over in Berlin, when Josh Warrington was on the undercard of Paul Smith's bout with Arthur Abraham," he said.
"Some locals from the right-wing scene came up against the Leeds fans of Warrington. It was a much bigger brawl than Saturday but within about two minutes there were Robocop-style police in the venue and the fighting was over three seconds after that.
"They were waiting on site. That was missing on Saturday but it is something we will certainly be looking at for the shows we'll be doing in the UK."