Carl Frampton halves sparring regime to avoid 'problems' after boxing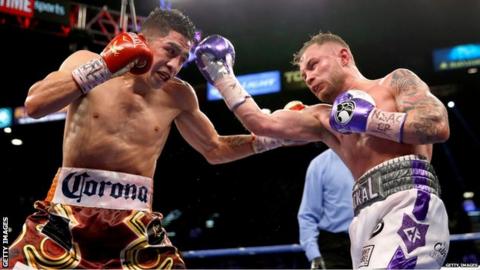 Carl Frampton has revealed he has more than halved his sparring regime to reduce the risk of brain damage.
The 30-year-old former two-weight world champion is training for his next fight against Horacio Garcia on 18 November.
The Northern Irishman has cut his sparring sessions from 220 to 100 as he bids to recapture his belts, before considering his future in the sport.
"I've got two kids and a missus. I don't want problems after boxing. You need to be careful," he told BBC Sport.
"You have heavy gloves and a head-guard on but if you talk to any other boxer about the amount of rounds they spar there is nobody getting close. Most do maybe 100 or 120 for a 12-round fight and I was doing 220. It was a lot.
"You're just taking punishment every day, getting hit all the time. That's something we're going to cut back on. I'll train hard but the sparring will be cut in half."
Frampton has not fought since losing his WBA featherweight title to Leo Santa Cruz in Las Vegas last January, as the Mexican avenged his defeat six months earlier.
A bout against Andres Gutierrez had to be postponed and eventually cancelled in July after the Mexican slipped and injured himself in the shower.
Now, after parting with long-term manager Barry McGuigan, he is preparing for his first bout as part of promoter Frank Warren's stable.
"I'm just taking one fight at a time now and seeing how I go," Frampton said. "I'm thinking about getting my world title back and potentially winning a world title in the next division up as well.
"That retirement plan I had, getting out by 32, may still be the case even though at the minute it's in the back of my mind. It's important to get out at the right time."
Weight mishap 'embarrassing'
The last two years have brought contrasting fortunes for Frampton.
The pinnacle came when he won the WBA featherweight title by beating beat Santa Cruz in New York in July 2016, making him the first Northern Irish fighter to win a world title in two weight divisions, having also been a super-bantamweight champion.
But 2017 began with defeat to Santa Cruz in January's re-match, before he weighed in a pound over the limit for the ill-fated bout with Gutierrez.
"I was embarrassed," Frampton said. "If you look at my demeanour I was upset and annoyed at myself. I just didn't want to be there when I stepped off the scales.
"If people had have seen me before in a sweat suit, in saunas... I tried to make it and missed it by a pound. People are saying 'why not go and lose a pound?' But I'd lost a lot of weight and that was it. I just couldn't lose any more.
"It wasn't just a pound. The night before I was probably nine pounds overweight. I had the wrong approach. I should have been lighter. I should make it comfortably. I'm not a massive featherweight.
"Yes, it is a team responsibility and there's the camp and everything that goes on but I'm the main man and that's the bottom line. I'm not going to blame anyone else for me missing the weight. It wasn't great - unprofessional.
"Then he slips in the shower after the weigh-in and knocks his teeth out. You couldn't make it up.
"Everything that went on around that whole fight was just bizarre. Maybe a blessing in disguise. Who knows?"
Santa Cruz re-match still the dream
The Belfast man is focused on beating Garcia in his home town in November, but after is hoping for a third match with Santa-Cruz.
"Santa Cruz is the fight I want more than any other because he beat me," he said. "I want it more than [Lee] Selby or Oscar Valdez because I feel I can right a wrong.
"I like Leo, we get on well. We've had two good fights, two close fights; I won one, he won one. It just makes sense doesn't it? Sense for boxing fans all over the world and financial sense for me and Leo as well.
"It just has to happen."
'Selby must realise I'm the main man'
A potential big domestic fight would be against IBF featherweight world champion Lee Selby, who has challenged Frampton on Twitter.
Frampton played down spiky exchanges and said he is open to the prospect of fighting the 30-year-old Welshman in Belfast.
"It's definitely a potential fight and he's a great fighter," he said. "Whatever you see on Twitter, me and Lee respect each other a lot and he's a great guy.
"It would be an exciting fight. He's a champion but he's got to understand that if this fight does get made, although he's a champion and has the title, I'm the name in the fight.
"As long as him and his team know that when they negotiate, then it can happen."
'Training is fun now'
Whatever else is on his mind, Frampton is enjoying training more than he has in a long time.
He said: "I think a fresh start is good for anyone. The main thing is I'm training hard when I have to train hard. Some days we work on tactical things.
"I don't want it to sound like a jolly-up and we're just having a laugh but there's always great craic in the gym. Nobody takes themselves too seriously. It's always good fun."
Like most fighters he is a frequent Twitter user, along with his wife who is renowned for her acerbic put-downs to his critics.
"It's good to build a fan-base and build support. But then you have clowns as well," he said. "I've been lucky - I don't get too much abuse but you get a little bit.
"I always try my best not to block people although I've had to when they keep going.
"I 'like' tweets sometimes when people are having a go. They give you dog's abuse, sometimes really abusive stuff, and then they come back 'Only joking Carl - big fan'."