Anthony Crolla v Ricky Burns - a fight neither boxer can afford to lose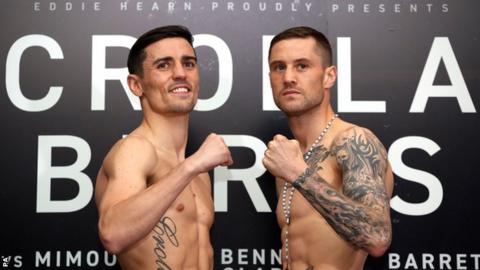 The marketers could pitch it as England versus Scotland, or try to instigate some "trash talking" between two fighters trying to prolong their careers, but with Manchester's Anthony Crolla and Coatbridge's Ricky Burns there is only mutual respect.
A bout between two of the sport's most affable characters could sound dreary but there is every chance the non-title lightweight contest at the Manchester Arena on Saturday will be a thriller.
Neither fighter is likely to take too many backwards steps.
The pair, former world lightweight champions, approach the 135lb fight with the prospect of another, probably final, world title tilt as a possible prize.
But for the loser, the journey back to a title-level contest would be arduous.
Crolla, 30, has fought eight of his last nine bouts at his home city's Arena. His last two fights, both against Venezuela's WBA champion Jorge Linares, ended in painful defeat. A trio of losses would test his appetite to continue.
For Burns, four years older and also a former world champion at super-featherweight and at super-lightweight, was outwitted by the talented Namibian Julius Indongo in Glasgow in April. That unification bout defeat cost Burns his WBA world title at 140lb.
'This is going to be a good fight. It can't fail, with our styles' - Crolla
Crolla, who weighed in at 9st 8lb 9oz on Friday, said: "I don't believe we're putting our legacies on the line. We've both boxed top fighters.
"Anyone who knows boxing knows this is going to be a good fight. It can't fail, with our styles.
"I just want to be involved in big fights. I've had those big nights before and no drink or drug can give you that feeling, walking out in front of the arena and being involved in a good, hard fight.
"I've got a young family I want to support. I just want to make everyone proud. The support this city gives me time after time, I've got to give it 100%.
"We sparred about nine years ago and a lot has changed since then.
"He's been in with boxing royalty; he's had a great career. He wants to win another world title and so do I."
'We like to do our talking in the ring' - Burns
Burns, four ounces lighter than the Mancunian, told Sky TV: "Everything has gone to plan. I've been on a proper, strict diet for the last 10-11 weeks. I've made the weight easily.
"If we never got offered the opportunity to fight for the world title at the weight above I could probably still be fighting at lightweight just now. It's been hard but I can do the weight limit as long as I keep at it.
"It's going to be a great fight. Me and Anthony are two normal guys and we like to do our talking in the ring. When that first bell goes that is when we are going to go for it.
"Styles make fights but I'm sure the fans are going to be in for a real treat here.
"A lot of people have been saying the winner could go on to fight for a world title. I know there has been a lot of talk about where does the loser go from here, but I've not been looking at it. I'm 100% confident of getting the win.
"It [fighting for a fourth world title] would be amazing but I've always said one fight at a time. We know we've got a tough fight against Anthony so he has my full attention.
"I've never fought in Manchester before but I've been at a few venues so I know what the fans are like. They are the same as back home. I'm sure they are going to appreciate a good, hard fight The best man will win."
Burns has revealed that his trainer Tony Sims was not too enthusiastic about his fighter dropping to lightweight, but he is confident in his ability to cope with the regime.
"Tony wasn't too keen on it but I know that I can do it properly and winning this fight can lead to bigger things," he said.
"I'm not retiring until boxing is out of my system, until I hate training and am fed-up with dieting."
A fight that doesn't need to be hyped
Crolla told BBC Radio Scotland in August: "I've got a lot of respect for Ricky as a fighter and a person. I'll have to be at my best to beat him.
"Ricky's not the type to be trash-talking and neither am I.
"Everyone who knows boxing knows that this is a fight that doesn't need that to sell. Come 7 October in that arena, there's going to be an amazing atmosphere."
The respect between the fighters was still in evidence on Friday, ahead of the weigh-in, when Burns posted a photo on Twitter of the pair grinning.
And boxing MC Michael Buffer is pained at the thought of there being a loser on Saturday.
"Love both guys-Not looking fwd 2 final announcement," he tweeted.