David Haye compares Tony Bellew's win to robbing a bank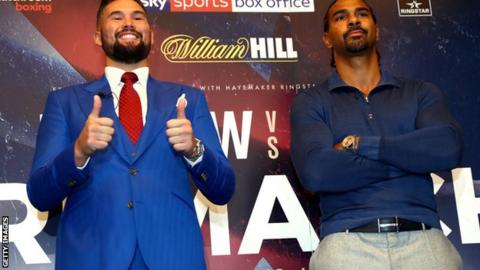 David Haye has compared Tony Bellew's win over him in March to "robbing a bank" and predicted a revenge victory in December.
The heavyweight pair have agreed a rematch after Bellew won their original fight with an 11th-round stoppage.
Haye, 36, said Bellew's triumph was akin to him securing his family by stealing a fortune.
But Bellew said: "I didn't rob a bank - I got in the boxing ring and punched him senseless then I went home."
He added: "On 17 December I will turn up and I will win again."
Former WBA heavyweight champion Haye needed surgery following the defeat by the 34-year-old, and has since split with trainer Shane McGuigan to join Cuban coach Ismael Salas.
The Londoner questioned Bellew's motivation for their rematch after he reportedly earned £2.8m from their first encounter.
"People rob banks to secure their family," Haye said.
"Would you go back to rob that same bank again? Is your hatred so bad for the clerk behind the desk that you need to do it again?
"I know what Tony earned for the first fight and he is financially secure for the rest of his life. He's a multi-millionaire and that's fantastic.
"He's got into a very small club of British boxers who have enough money that don't have to box, don't have to have a job. So I ask myself 'what are his motivations going into the second fight?'."
'I've got a screw loose - I like having a fight'
Addressing Haye during their news conference on Wednesday, Bellew said: "I have more desire than you will ever know. I will never quit. I will never give in. You will have to put me asleep to beat me.
"What motivates me? To get home safely. But believe it or not I enjoy fighting. I've got a screw loose. I like having a fight.
"I don't enjoy the build-up and I don't enjoy losing loads of weight. But fight night? I love it.
"I know in my heart deep down he still doesn't rate me. He still thinks he'll blast me and walk through me.
"If anything, this fight is not going to go as long as it did last time. David Haye's career ends on 17 December."