David Haye and Tony Bellew rematch set for 17 December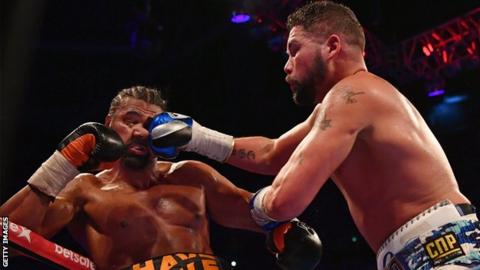 David Haye and Tony Bellew will meet in a heavyweight rematch on 17 December at the O2 Arena in London.
After a fiery pre-fight build-up, WBC cruiserweight world champion Bellew stopped Haye in the 11th round in their first meeting in March.
Haye injured an Achilles in the sixth round before falling to the third defeat of his career.
"I'll be victorious and end Haye's career. Another loss to me closes the curtain on the Hayemaker," said Bellew.
"I will have the exact same attitude I had going into the first fight - win at all costs."
Former WBA heavyweight champion Haye needed surgery following the defeat by Liverpool's Bellew, and has since split with trainer Shane McGuigan.
"Last time the script was thrown out the window and the unpredictability of sport revealed itself in its most raw form," Haye said.
"Bellew somehow won the lottery in our first fight, but believe me, he won't win the lottery twice.
"I've been training every day for over six months. I already feel fitter, stronger and more athletic than I did for our first showdown. I will relish the opportunity to re-write the ending of the Haye-Bellew story."
Analysis
Luke Reddy, BBC Boxing reporter
Since splitting with McGuigan, Haye has linked up with renowned Cuban coach Ismael Salas, a trainer of multiple world champions. But the impact of that new relationship will form just a small part of the questions the Hayemaker must answer in a second meeting with Bellew.
Crucially, how much trust will he be able to place in his Achilles? Can he box at full throttle?
Many believed he would have gone on to beat Bellew in March until injury struck but there were signs Haye was beginning to blow prior to his misfortune. Bellew boxed cleverly, countering with accuracy time and again so it is unlikely his chances will be dismissed this time around.
So in the ring this looks balanced on paper and will again deliver plenty of intrigue. It is outside of the ring where many in the sport will hope common sense and calm win the day. Haye was fined for his words last time out, while Bellew faced a stiff warning from the British Boxing Board of Control.
Bellew helped Haye back to his stool in his stricken state afterwards, pointing to a respect. But it is safe to say there is no love lost here and anything other than a ferocious build-up would be a surprise.