Carl Frampton: Belfast boxer still contracted to McGuigan despite split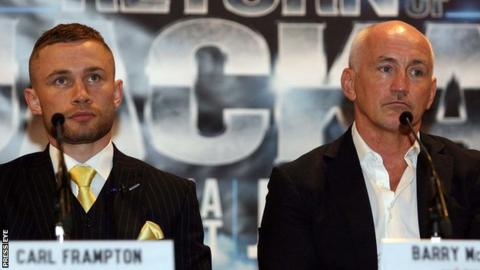 Barry McGuigan is still contracted as Carl Frampton's manager, the British Boxing Board of Control has confirmed.
Frampton said on Friday he was a "free agent", but the sports governing body said on Monday it holds an official contract between the two parties.
It's unclear whether this contract must be mutually terminated before Frampton can step back into the ring.
A spokesman for the board said the organisation regarded the resolution between the pair as a "private matter".
He added that any dispute between the two must be brought to the board before any legal proceedings.
It is also understood that Cyclone Promotions, which is owned by the McGuigan family, has a promotional contract with Frampton.
Frampton resigned as a director of Cyclone Promotions just before his last scheduled fight in July, which was controversially cancelled when his opponent suffered injuries after he slipped in the shower.
Former two-weight world champion Frampton split with McGuigan last month and said there was no prospect of working with Cyclone Promotions again.
"At this point in time, it's done. I'm a free agent," the Belfast fighter told BBC Sport Northern Ireland on Friday.
"I want to take a little bit more control. I want the big fights.
"I had some memorable nights with Cyclone and I did have some big fights but I'm 30 and at the stage of my career where I have a couple of years left.
"I just felt it was the perfect time for me to move on."
Asked whether his split with Cyclone Promotions had been amicable, Frampton replied: "I can't really say too much about that."
Frampton revealed last week that former British, Commonwealth and European champion Jamie Moore was his new trainer.
Frampton had been trained by McGuigan's son Shane for most of his professional career, which began in 2009.