Tony Bellew "happy" to fight UFC champion Michael Bisping in a ring and a cage
Last updated on .From the section Boxing58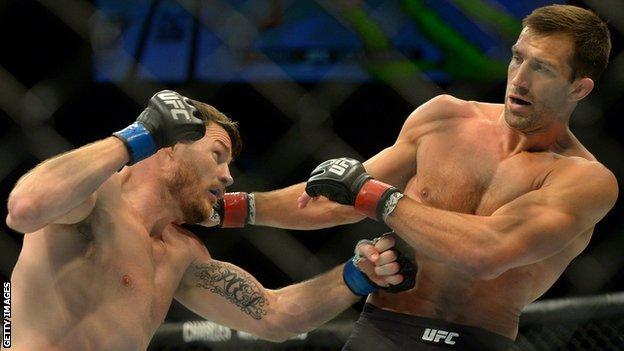 Tony Bellew has said that he would be "happy" to fight UFC champion Michael Bisping, in both a cage and a boxing ring.
Bisping, 38, had earlier tweeted that he "100%" wants a boxing match with ex-WBC cruiserweight champion Bellew.
Bellew, 34, has not fought since beating heavyweight David Haye in March.
"He's saying he'd happily entertain me in a boxing ring, I'd be happy to do one of each," Bellew said.
"We can start with the boxing - but I'm not too sure he'd want to come near me again once I'd hit him with a certain punch in the boxing world. It wouldn't bother me in the slightest whether I am getting in a cage or a boxing ring."
Boxing legend Floyd Mayweather faces UFC champion Conor McGregor in a boxing contest on 26 August in Las Vegas.
UFC v boxing take two?
Bisping said he would fight Bellew, after his UFC middleweight title contest against Georges St-Pierre.
Speaking to BBC Radio 5 live, Bellew, who has 29 wins, two losses and a draw from his 32 fights, said he did not call out Bisping but would be interested in the bout if the UFC title was at stake.
"I couldn't believe it - I'm still in shock. I'm absolutely amazed that Michael Bisping wants to get knocked out in a boxing ring," he said.
"I'm not too sure if his next fight with Georges St-Pierre will go ahead - if not, I'm happy to do it and he's clearly outlining that he's happy to do it as well. I'll speak to [promoter] Eddie Hearn, and we'll see how it goes. I like it. Michael Bisping is quite a name within the UFC world in America, so why not?"
Bellew and Bisping had this Twitter exchange:



Get all the latest boxing news sent straight to your device with notifications in the BBC Sport app. Find out more here.