Conor McGregor: Paulie Malignaggi claims he made UFC fighter whimper
Last updated on .From the section Boxing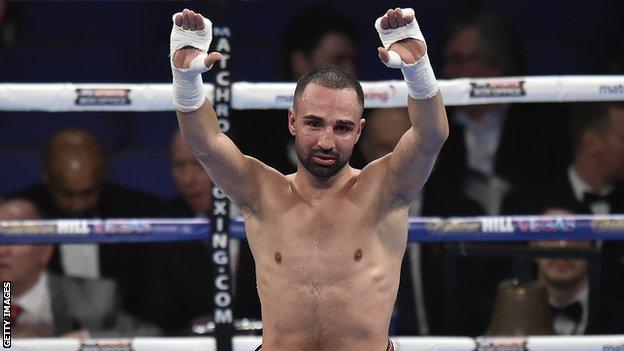 Paulie Malignaggi says he heard UFC champion Conor McGregor "whimper" when he was hit by body shots in their boxing sparring sessions.
McGregor faces Floyd Mayweather in his boxing debut in Las Vegas on 26 August.
"The guy is all about his ego. He's actually not trying to get better," two-weight former world champion Malignaggi told MMA Hour.
American Malignaggi, who retired in March, was upset about training camp pictures made public. One showed him down on the canvas during one of the two spars with McGregor.
Malignaggi says he asked McGregor not to release any pictures from their sparring, but the UFC fighter refused.
"He gives me his back, he's walking away towards the showers and he's like, 'Ha ha, I don't know Paulie. We got some good ones in those last two rounds. I don't know about that'," Malignaggi said.
"I thought it was a joke."
Five-weight world champion Mayweather is coming out of retirement to face UFC lightweight title holder McGregor in a high-profile fight.
Malignaggi, who was also concerned about sparring for 12 rounds, added: "The funny thing about the push down was this - it was during one of his worst moments.
"He pushed me down on the floor to try to catch a break and the instant I went down I got back up.
"I started to take it to him right after that. I told him, 'you get no breaks here', and I started to hit him with more body shots. I said, 'take those, they don't feel good' and I could hear him whimper off the body shots, too."
Get all the latest boxing news sent straight to your device with notifications in the BBC Sport app. Find out more here.