BBC Sport - Belfast boxer Ryan Burnett vows to grab world title chance against Lee Haskins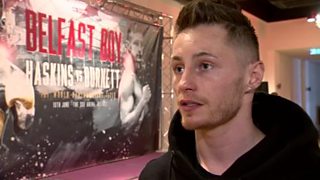 Belfast's Burnett vows to grab world title chance
Ryan Burnett believe he will become IBF bantamweight champion in his native Belfast on 10 June by dethroning England's Lee Haskins.
Burnett, 24, admits his chance has come sooner than some expected but insists "it's time for me to become world champion".
Bristol man Haskins, 33, had made two titles defences since winning the belt against Ryosuke Iwasa in 2015.