Tyson Fury: Ex-heavyweight world champion 'wants to make family proud again'
Last updated on .From the section Boxing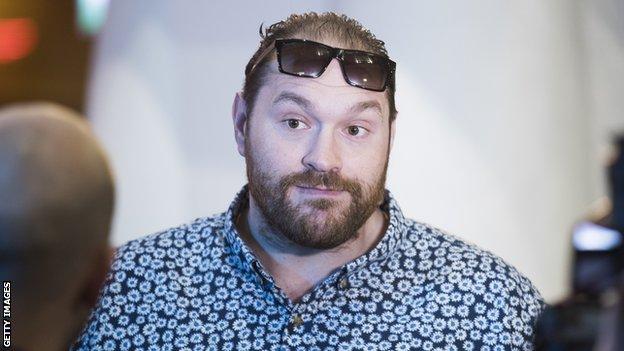 Former heavyweight champion Tyson Fury says he wants to "make my family, friends and fans proud again" as he prepares for a July comeback.
Fury, who has not fought since he beat Wladmir Klitschko in November 2015, had his licence revoked in October as he dealt with mental health problems.
The 28-year-old is aiming to return on the Billy Joe Saunders-Avtandil Khurtsidze undercard on 8 July.
"I'm back training on a mission to put the record straight," he tweeted.
"I have had the height of success in my life and the lowest of lows to the point of not wanting to live," he added.
"I hit the drink and drugs trying to find a way out but it didn't help. I ballooned in weight.
"I'm sorry I let everyone down, it will never happen again. If I can change and beat my demons so can you."
Fury vacated his WBO and WBA world heavyweight titles a day before his licence was suspended, saying he was unable to defend them because of his health.
He initially wanted to return in May but the British Boxing Board of Control told the BBC he was still suspended.
Fury would have to appear before the board to be given permission to fight.