Michael Conlan confident of victory in New York debut
Last updated on .From the section Boxing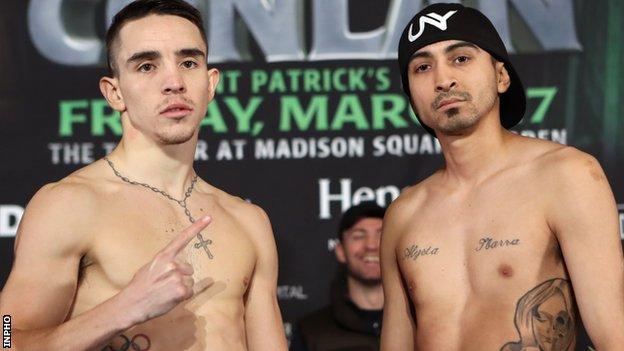 Michael Conlan is in bullish mood for his professional debut against American Tim Ibarra at Madison Square Garden in New York on St Patrick's Day.
A big crowd of Irish-Americans are expected to watch the 25-year-old Olympic bronze medallist from Belfast in action at the iconic venue.
"I don't have to worry about the crowd or my opponent - I just have to worry about myself," said Conlan.
"Because if I perform then no-one can beat me."
Conlan enjoyed a glittering career including becoming the first Irish male to win a senior World Amateur Championship title with victory in Doha two years ago.
His amateur days ended with a controversial defeat in the Rio Olympics quarter-finals last year.
Conlan may be confident about his entrance into the pro ranks but he says his Colorado opponent will be no pushover.
"I know this lad is going to come in with a full training camp - he's going to be hungry and he's going to want to win," he added.
"But as soon as he gets punched it's going to be different.
"I want to go in there and perform and if I perform everything else follows.
"It will be my first time in New York on St Patrick's Day and I think New York does it bigger and better than anywhere else in the world."