Chris Eubank Jr calls out James DeGale and Billy Joe Saunders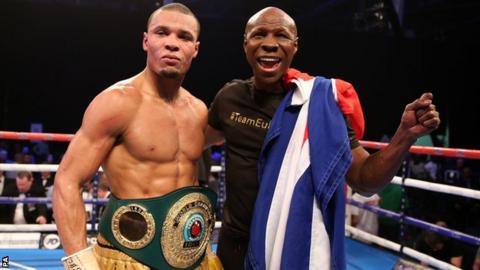 Chris Eubank Jr wants to fight either James DeGale or Billy Joe Saunders next in an all-British bout, adding that he plans to be back in action in April.
The 27-year-old called the pair out after winning the IBO super-middleweight title with a stoppage of Australian Renold Quinlan on Saturday.
DeGale holds the IBF super-middleweight belt, while Saunders is the only fighter to beat Eubank Jnr.
The Brighton fighter says he sparred with DeGale and "dealt with him".
He added: "I know what I can do to him. It's a fight the public want to see and now we have the platform. Let's do it."
'Saunders is starving and I'm the food'
Saunders beat Eubank Jnr on a split decision in November 2014 in his only defeat from 25 professional bouts so far in his career.
"I know Saunders is starving as well - no fans, fighting in leisure centres in front of 300 people," said Eubank Jnr.
"He needs to fight and we all want that fight, me more than anybody.
"Saunders is starving and I'm the food. Without me he hasn't got anything. The only thing he has is a win over me; that's his entire career and I need to right that wrong."
Eubank Jnr's father, who was a two-weight world champion in the 1990s, is keen for his son to fight DeGale.
"If we can make this fight with James DeGale, that we shall do," said Eubank Sr.
"We have been marinating him. I can smell it. When you're a fighter you are compelled to fight when you are being called out.
"Otherwise you look like the one thing you have been fighting against all your life, which is appear to be a punk."