Lisa Whiteside and Sandy Ryan secure medals at European Women's Boxing Championships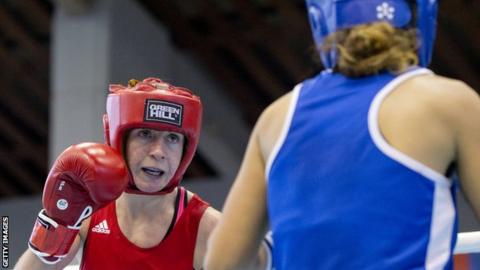 England's Lisa Whiteside and Sandy Ryan are guaranteed at least bronze medals in the European Women's Boxing Championships in Sofia.
World number two Whiteside took a unanimous decision against Greece's Aikaterini Koutsogeorgopo in her 51kg class quarter-final.
Ryan earned a split decision against Sweden's Agnes Alexiusson in the 60kg.
Chantelle Cameron lost a unanimous decision in her 64kg quarter-final bout to Russia's Aleksandra Ordina.
Natasha Gale, the fourth member of the Great Britain squad competing in Bulgaria, will box for a guaranteed medal in the 75kg category on Sunday.
Several other British and Irish boxers are representing their nations in the competition but are not part of the GB squad.
England's Demi-Jade Resztan lost her quarter-final bout in the 45-48kg class to Russia's Ekaterina Pinigina, Rosie Eccles from Wales was defeated by Italy's Valentina Alberti in the 64kg event and Ireland's Shauna Browne lost to Russia's Daria Abramova.