Anth Hardy: 'Humbled' boxer targets ring return after eye surgery lifeline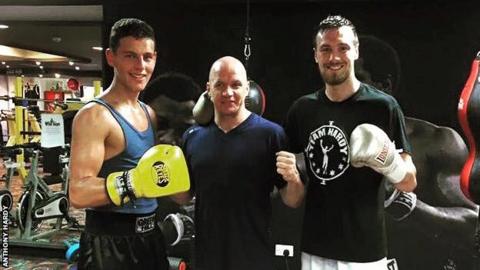 There is a saying which goes - when you're up your friends know who you are; when you're down, you know who your friends are.
Thankfully Horden super-lightweight boxer Anth Hardy discovered his friends were very much in his corner when the British Boxing Board of Control withdrew his licence after his eyesight was deemed unsatisfactory to fight.
To save his career he needed surgery and it was those fans, friends, family and sponsors that came to his aid - stumping up the £3,000 to pay for the treatment.
"Gus Robinson's gym and Foundation pumped in quite a bit, while I raised £775 from family, friends and supporters," Hardy proudly told BBC Sport.
"The support of friends, family and fans, who plugged their money into me, it's quite humbling."
Gut-wrenching blow
The injury that had Hardy's career hanging by a thread was not a tale of ring bloodshed.
There was no bruising, no sweat, nor was there a triumphant opponent standing across a ring with arm held aloft.
He had not taken a single punch and yet he was contemplating a knockout blow.
Days before an English title eliminator against Freddy Kiwitt at London's York Hall last September, primed and prepared, he was stopped in his tracks.
Previous tests had been fine, but now the sight had slipped below the requisite levels required at the routine medical, not distinctly noticeable in day-to-day life but not high enough for the strict criteria set by the BBBoC.
"When I got the phone call, it was gut-wrenching," Hardy said.
"I'd just had a 10-week camp where I grafted my backside off in the heat of Malta, training three times a day.
"Everything had gone perfectly but my eyes didn't pass the test set by BBBoC, it was all drained away and it was really hard to take."
Strong support
Hardy's professional career was only 10 fights old, with an 8-2 record when his licence was withdrawn.
With mental, as well as physical health given extra prominence in modern sport, trainers and fellow fighters in the camp were quick to close ranks and support the 24-year-old through a tough time.
"It's thanks to the people around us," he said. "[Trainer] Peter Cope is not just a man manager, he nurtures you.
Inspired to try boxing?
Find out how to get into boxing with our special guide.
"They've built me from a boy to a fighting man and that attitude has served me well. They made it clear this is a setback and obviously wanted to keep me working hard, train hard, get sorted - as tough as it was to take you just brush it off your shoulders and get it done."
From darkness to light
Now the surgery has been completed, there is a wait for the licence to be restored and the eventual return to full contact.
Until then, shadow boxing, punchbag training and strict fitness regime are on the agenda and a philosophical Hardy can look to the future with optimism.
"I just want to get back into the ring," he said. "The eyes are still quite sore, but I've started running again.
"It's a relief more than anything else, but I've put on a bit of weight so now it's about trying to cut that down again and get back to where I was.
"I understand [the decision] is down to health and safety and if it hadn't been now, it could have been another time later on in my career. It's made me realise how I want to be a professional boxer.
"This could be a blessing in disguise, I'll work hard to make sure that it is."