Dereck Chisora v Dillian Whyte: 'I'm like herpes,' says British title challenger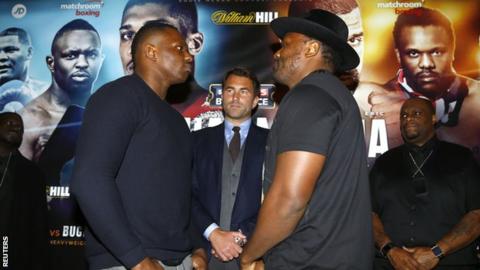 Dereck Chisora compared himself to herpes as he prepares to challenge British heavyweight champion Dillian Whyte on 10 December in Manchester.
The 32-year-old fights to win the title for a second time on the undercard of Anthony Joshua's IBF heavyweight title defence against Eric Molina.
"I've lost six fights, people write me off but you can't write me off," Chisora said.
"I'm like herpes - one minute I'm gone, then one minute I pop back up."
Genital herpes is a sexually transmitted infection that can can cause painful blisters. It is caused by the herpes simplex virus, which can also cause oral herpes.
It is a long-term condition because the virus can lie dormant in the body and then become active again.
"It's like you have to see the doctor and get a pill but then suddenly I pop back up," added Chisora, who has won 26 of 32 bouts.
"All I see is Dillian on the canvas. There's nothing much I'm scared of, he doesn't bring much to the table. He's got a good selection of punches but he hasn't got a power punch so I'm looking forward to the fight."