Dave Ryan considers retirement after Josh Taylor defeat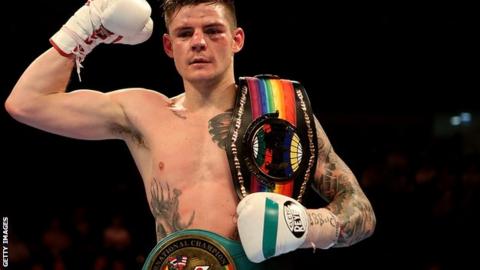 Dave Ryan is considering retiring from boxing following his recent title defeat by Josh Taylor.
The former Commonwealth light-welterweight champion, 33, failed to regain the belt when he was stopped in the fifth round by unbeaten Scottish prospect Taylor on 21 October.
He says he will now either move up to welterweight or hang up his gloves.
"I'm not making any rash decisions. I'm going to see how it is in a couple of weeks," he told BBC Radio Derby.
"With my age, and the weight I'm getting down to, it's getting harder all the time.
"If I do box again, it's going to be at the next weight above so it's not going to be as tough to get down. I think I'm too big to be making 10 stone now.
"But if I step up, I don't know whether I'd get a title fight or have to start from scratch and work up again. If that's the case, that's not good as I'm 33 and haven't got a lot of time left - if I have got any time left."
The loss was the 10th of Ryan's 27-fight career and effectively his first stoppage defeat, given the manner in which he lost the Commonwealth title in September 2015.
Ryan was well ahead on points against John Wayne Hibbert, whom he had previously beaten twice, when a back injury led to the bout being stopped in the 10th round as he was unable to defend himself.
However, he was comprehensively beaten by the highly-rated Taylor.
"I felt flat in there. There was no sharpness," Ryan said. "I just don't feel I was mentally ready 100%. Physically I was more than ready, but mentally I don't feel it was all there.
"I didn't have that fire in my belly. I don't know if I've lost the desire to box."
A boxing family affair
Ryan's sister Sandy, also a boxer, is hoping to banish the disappointment of missing out on selection for the Rio Olympics, by winning gold at the European Championships later this month.
"When the team were in Rio I was at home, and I told myself this is either going to make or break me," she said.
"I got in the gym, got my head down and worked harder than ever. I've come back a better boxer mentally and physically - I believe it's my time.
Ryan, a world championship silver medallist in 2014, joined her brother for his ring walk before the defeat to Taylor.
"I'm so proud of him - he is my champ," she added. "We have always been there for each other and whether he carries on or retires, I will always be by his side."