Josh Taylor relaxed before title fight with Dave Ryan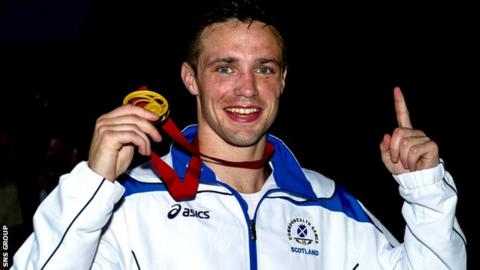 Josh Taylor says attempts to unsettle him by the trainer of world title opponent Dave Ryan are pointless.
Clifton Mitchell dominated a news conference to promote Friday's Commonwealth super lightweight bout, irking Taylor's manager Barry McGuigan.
"We have come into your house and we'll pull your pants down and spank you," said an animated Mitchell.
But Taylor told BBC Scotland: "I don't think Dave is as confident as Clifton's making him out to be."
The 2014 Commonwealth Games gold medallist added ahead of the Meadowbank fight: "He's just trying to noise me up and get under my skin.
"I can't wait for Friday. I'm so relaxed, so confident but I'm expecting a tough 12-round fight. There's only going to be one winner and that's me."
Taylor, 25, has won all six of his professional fights inside two rounds, but Mitchell claimed he had fought only "bums" and was not ready to face someone as experienced and efficient as the 33-year-old from Derby.
"I don't know why we're here because as far as this lot are concerned it's a foregone conclusion," said Mitchell, who thinks the Scottish boxing fraternity has written off his man.
"We might as well just get in the ring, lie down and give them the belt because the way everyone is talking this is some sort of Mayweather superstar. We'll find out when the heat gets on."
'I know how good Josh is'
McGuigan, visibly bristling as Mitchell repeatedly ranted, felt the English trainer's behaviour went beyond the boundaries of the bravado often displayed in the sport.
"Because he was rude, obnoxious and using pretty coarse language I just said to him, 'are you going to apologise?' because the things he was saying are not going to come true," McGuigan told BBC Scotland.
"It's always a step too far with Clifton Mitchell. He tends to be vociferous. You notice that his fighter wasn't as garrulous.
"But there's an element of truth in what he's saying. Josh is now fighting a seasoned pro, who has been the Commonwealth champion and WBC international champion.
"But I know how good Josh is. I see in the gym what he doesn't see. I'm expecting Dave Ryan to provide at least six to eight competitive rounds, but Josh will be much too good for him in every department.
"I think this kid is a superb talent. World-class written all over him."