Chris Eubank Jr says he is not affected by Nick Blackwell fight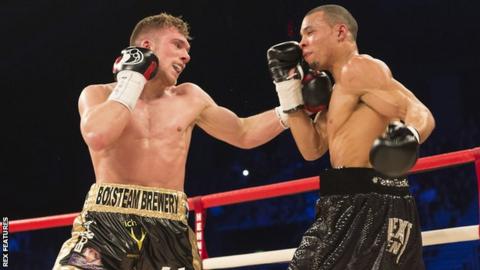 Chris Eubank Jr says he will not be affected by his last fight with Nick Blackwell and has vowed to display "no mercy" against Tom Doran on Saturday.
Blackwell retired from boxing after he suffered bleeding on his skull and was put in an induced coma in a loss to Eubank in March.
Eubank Jr will be defending his British middleweight title for the first time.
"I'm not going to let a situation like what happened in my last fight affect my future performances," he said.
The fight against unbeaten Doran, 28, is on the undercard of Anthony Joshua's IBF heavyweight title defence against Dominic Breazeale at London's O2 Arena.
Blackwell woke from his coma a week after the fight, which was stopped in the 10th round, without requiring an operation.
Eubank Sr, who was a two-time world champion in the 1990s, admitted he lost his killer instinct after the 1991 rematch with Michael Watson that left the latter with near-fatal brain injuries.
But Eubank Jr, 26, said that would not happen to him as he and his father are "two different men".
He added: "Something like that might affect someone's fighting style and mindset. For me, I've used it to fuel myself even more.
"I'm in there to win, defend myself and attack, and to further my career, so there is no mercy.
"It's the referee's job. It's not for me to have to say I should ease up."