Jimmy Kelly aiming to join Manchester's world champions
By Nathan Middleton & Liam Bradford
BBC Sport
Last updated on .From the section Boxing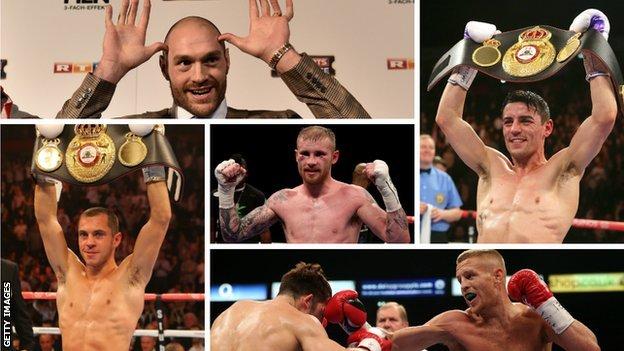 For a city associated with football and its music scene, Manchester is going through an incredible period of success in the world of boxing.
At the moment there are four world champions from Greater Manchester in Tyson Fury, Scott Quigg, Anthony Crolla and Terry Flanagan.
That number could rise to five this weekend if Wythenshawe's Jimmy Kelly can beat Liam Smith to take the WBO light-middleweight title.
"They're all fantastic fighters and I would be proud to add my name to that list," said Kelly.
The 23-year-old beat Martin Fidel Rios in his last outing to take the WBO intercontinental title but is seen as the underdog against Liverpool's Smith at the Manchester Arena on Saturday.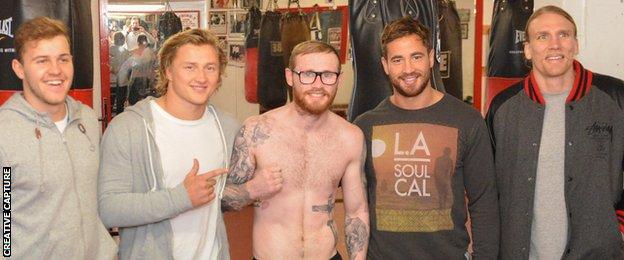 "Everyone keeps saying 'was I surprised to get the fight?' But I wasn't surprised at at all and I'm going to take his title," he told BBC Radio Manchester.
"It doesn't matter if people have heard of me or not, I've been around for a long time I've just not been in the public eye.
"I'm a fantastic fighter, I'm world rated - I'm number seven in the world so it speaks for itself.
"I've just gone about my business. I'm not to bothered about slagging this person off or trying to get publicity, I've just let my fighting do my talking."
England's boxing capital?
After Ricky Hatton retired in 2009, Manchester struggled to find not only a new fighter to call their own but also big fights to get excited about.
The likes of Mike Tyson and Joe Calzaghe fought at the Manchester Arena in the past and Kelly's dad took him to watch his idols.
"Lets have it right, Ricky Hatton wasn't supposed to win that fight against Kostya Tszyu and neither was Joe Calzaghe when he faced Joe Lacy, and I'm just going to add my name to the underdog," he said.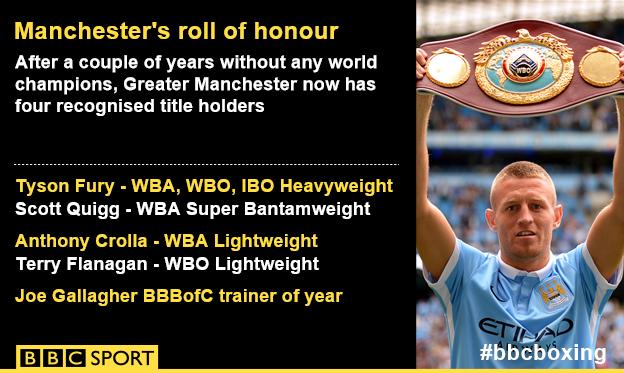 Kelly is trained by former British and Inter-Continental middleweight champion Ensley Bingham at Moss Side boxing club, also known as Champs Camp, and is unbeaten in his 14 fights so far with seven knockouts.
He has been around boxing since the age of four and is a four-time national junior champion, so why does he think Manchester is thriving when it comes to boxing?
"There are a lot of tough housing estates around that build that inner toughness into kids," he stated.
"I'm from Wythenshawe which is a tough estate and I think you're just bred differently from estates like that.
"We've had something to channel our energy into like boxing and we've just put that mental toughness and grittiness into a sport, and we've just succeeded.
"Success breeds success, it started off with one boxer being a world champion and it's just gone on and on.
"I look at Tyson Fury, who I've known since I was a kid, and keep saying 'I used to train with him when I was young before he even had an amateur fight,' so if he can do it, I can do it."
The Mancunian against the Scouser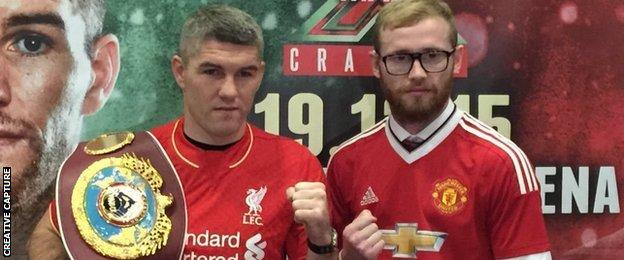 As with the build-up to most fights, the digs began at the press conferences with Smith saying the fight was 'just wages for Christmas' for him, accusing Kelly of not having the ability to fight him.
Merseysider Smith, 27, who has three brothers that are all professional boxers, is trained in Manchester by Joe Gallagher - the man who has led Scott Quigg and Anthony Crolla to world titles.
"It's sort of like a footballer being a boxer," said Kelly. "A footballer wants to play for United, they want to play at Old Trafford and it's just the same with boxing.
"You go and watch a local fighter doing well who has come from similar background to yourself and you think 'what would it be like to have that sort of atmosphere and that sort of opportunity?'
"You see people before you do it and it just gives you the confidence and I'm massively confident I'm going to be world champion."