Ajmal Faizy: Taliban victim, refugee and British boxer
Last updated on .From the section Boxing59
Ajmal Faizy wasn't the first and he won't be the last: a scared, bewildered kid washed up in a strange land, lured to the forbidding doors of a boxing gym by its mysterious smells and din. Faizy's only words of English: "I fight you."
Naturally, Faizy was ushered in - plucked from a dreary Blackburn evening and shown a brighter future. What boxing does best, its very special alchemy.
A few days earlier, Faizy didn't even know he was in Britain. He thought the policemen questioning him might have been Turkish or Spanish. Only when an interpreter was called did he learn his plane had pitched up in Manchester.
Faizy left Afghanistan in a hurry, at the age of 13. His father was tortured and killed by the Taliban, because they wanted his land - land that grew vegetables and fruit, land that had been in Faizy's family for centuries. Unsated by the death of his father, the big men of the Taliban returned to torture Faizy instead.
"I was in charge of the land so they started asking me to give it away," says Faizy, now 21. "I explained that I needed the land to feed my family."
UPDATE: Faizy won Saturday's bout against Lubos Priehradnik
when the referee stopped the fight
at the end of the fourth round with the Slovakian carrying a bad cut to his forehead.
The Taliban fighters smashed rifle butts into his face and hockey sticks over his legs. Those scars on his face were not earned in the ring. "Eventually my mother sold some land and sent me away," says Faizy. "She had no choice."
From Manchester, Faizy was whisked to a foster home in Lower Darwen, a village near Blackburn. "I locked myself up for a couple of days," he says. "Then I went looking for a boxing gym." Not a golf or tennis club. After places of worship, boxing gyms might be the world's biggest saviour of lost souls.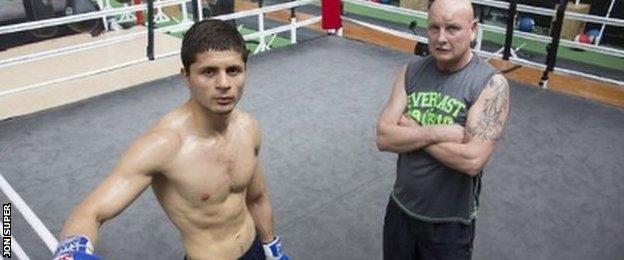 "He'd spent two and a half hours looking for this gym," says Barry Higginson, the venerable trainer who ushered him in. "He didn't know the area, where the gym was, how to speak English. All he could say was: 'I fight you.'
"Anywhere else, people might have taken the mickey out of him. But all the lads took a liking to him straight away, because he was a right character. Whenever he wasn't in school, he was in the gym, watching everything we do, listening to everything. He became what is known in the trade as a 'gym rat'.
"We helped him with his homework, taught him English, British culture. After two or three visits, he knew it was where he wanted to be. He fitted right in."
When Higginson saw Faizy land punches for the first time, he suspected the kid might be special. "You could tell he'd not boxed but the way he was banging the bag - boom, boom, boom - I knew he had something," says the trainer.
Faizy, by now known as 'AJ', had his first amateur fight after only four months and quickly reeled off 12 victories, most of them knockouts. He became fluent in English and earned a stack of GCSEs. But his precarious state was all too apparent when, having turned 18, his foster carers turfed him out of their home.
"I got a phone call one evening," says Higginson. "It was AJ. 'Baz,' he said, 'I'm sitting on a wall with my bags. Can you pick me up, please?' I had a word with the wife and he's been staying with us for the last three and a half years."
Ajmal Faizy

Born:

3 September 1993, near Charinkar, Afganistan

Division:

Light-welterweight

Height:

1.73m (5ft 8in)

Turned pro:

2013

Nationality:

British

Pro record:

7 fights, 5 wins, 1 draw, 1 defeat
In the early days, Faizy would wake up screaming in the spare room. The adopted family gained his trust and discovered his traumatic history. "Serious stuff," says Higginson. "Horrendous stuff. Stuff that's difficult to comprehend." They battled to get Faizy counselling, and he gradually improved.
"He's like my son," says Higginson. "I don't treat him any different to my kids and he's like an uncle to my grandkids. I had a tough upbringing myself, so there's a connection. And he's the nicest, humblest lad you'll ever meet. I wish I had 10 of them in this gym, it would be the most prosperous place."
Under Higginson, Faizy turned professional in 2013 and has won five of seven paid fights. On Saturday - World Refugee Day - Faizy will dedicate his latest fight to Britain, the country that gave him sanctuary and maybe saved his life.
"This country has been great to me, since the day I arrived," says the light-welterweight, who is set to fight Slovakia's Lubos Priehradnik at Manchester's Victoria Warehouse, late medical test permitting.
"I know there are people in Britain who say the country is full and that immigrants are making it worse. And I know some people come here just for the benefits. But there are other people who can't live in their homeland, who come here and work hard and pay taxes, just like people who were born here."
Faizy hopes to fight for a junior world title this autumn and Higginson speaks about his charge's boxing ability in almost reverential tones. He is a boxing sage from central casting, who thinks he might have uncovered that one in a million, and believes Faizy has what it takes to become a full-blown world champion.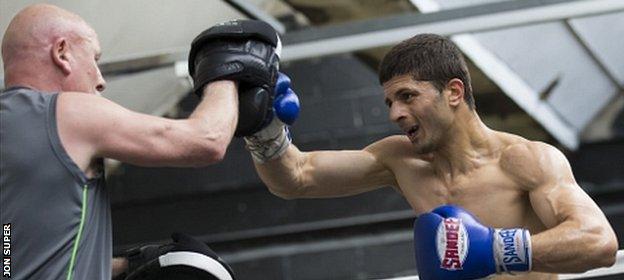 "Me returning home with a belt around my waist, that would make me a great ambassador for Afghanistan and my homeland proud," says Faizy. "It would also show the world that Afghanistan is not all about torture and terrorism.
"My father was a proud man. I was proud of him and, if he was alive, he'd be proud of me, for coming to Great Britain and making something of myself."
If Faizy, nicknamed 'The Dream', is unable to fulfil his boxing ambition, he has qualifications in computing and plumbing to fall back on. He also volunteers to help the elderly and the homeless. Yet he could be sent back to Afghanistan at any moment and is fighting efforts by the Home Office to remove him.
Faizy is a model citizen, imprisoned in limbo. Higginson puts it best when he says: "He's solid and sincere, proud of Britain. And he just wants a life."
Boxing, which has the darkest stories, has done its best to throw light on this particular situation. Higginson believes that had the sport not entered Faizy's life when it did - and provided stability at an impressionable time - he would be wandering the streets of some scenic Lancashire village. Selling drugs, trying the handles of parked cars. Not much of a career in the grand scheme of things.
Ajmal Faizy wasn't the first and he won't be the last: a scared, bewildered kid, lured to the boxing gym by its mysterious smells and din. Perhaps remember that when you hear an old fighter say - despite his scars, bent nose, crooked fingers and failing memory - "boxing's been good to me".