Amir Khan focused on Chris Algieri and denies Mayweather distraction
Last updated on .From the section Boxing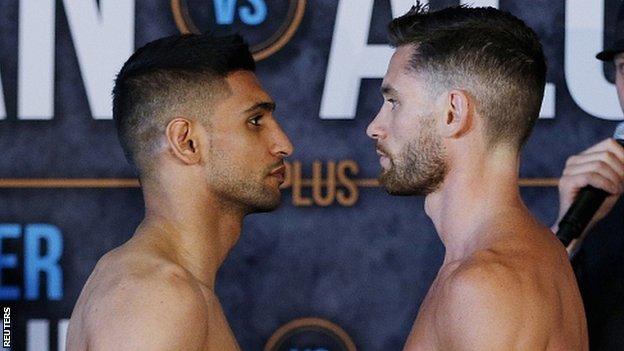 Amir Khan says he is not being distracted from Friday's bout with American Chris Algieri in New York by a potential fight with Floyd Mayweather.
The former two-time world champion has been tipped to be the next opponent for the undefeated welterweight, who beat Manny Pacquiao earlier this month.
Khan, 28, said: "I've made that mistake before, when you look past fights, but I ain't looking past this fight.
"There's no point looking at Mayweather because that might never happen."
Algieri, a former WBO light welterweight champion, comes into the bout on the back of his first defeat in 21 fights when he lost a wide unanimous points decision to Pacquiao after being knocked down six times.
On a roll
Amir Khan has won all four of his fights since he was stopped by Danny Garcia in July 2012
Khan said: "The guy I'm fighting, the guy I've been working on, the techniques I've been working on is to beat Chris Algieri, not Mayweather, not Pacquiao.
"I've got Chris Algieri. This is going to be a tough fight for me."
He believed he had a fight lined up with Mayweather last year only for the American to take on Marcos Maidana and then hand the Argentine a rematch before facing Pacquiao.
Khan believes he can end Mayweather's 48-fight unbeaten run, but the American has said he intends to retire after one more fight, probably in September, because he no longer enjoys the sport.
But Khan, who is Muslim, will be fasting in the period before any possible September bout.
Khan, who has won 30 of his 33 fights, produced a dominant performance last time out to secure a unanimous points victory over American Devon Alexander in Las Vegas in December.
Some were predicting he was a spent force after back-to-back defeats by Lamont Peterson and Danny Garcia prompted an ending of his partnership with Pacquiao's renowned trainer Freddie Roach.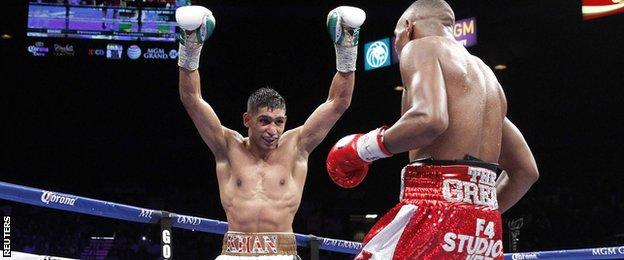 But Khan has now chalked up four successive victories and attributed his success to improvements in his defensive game made by new coach Virgil Hunter.
"I was with a trainer before who maybe wasn't teaching me the defensive side of boxing," he said.
"I needed to work on a few things and improve as a fighter and being under Virgil, he's done that for me.
"He's made me a better fighter, he's made me understand the sport of boxing and he's taught me the things I needed to be taught.
"Working on my technique, my skills and also when to punch at the right time and when to throw the right punches, the defensive side of boxing, knowing when to defend."