Gary Cornish: Inverness fighter plots world title path
Last updated on .From the section Boxing
Inverness heavyweight Gary Cornish may be six fights away from a world title shot, according to boxing promoter Tommy Gilmour.
Cornish defeated Hungary's Zoltan Csala in Glasgow on Saturday to win the IBO International Heavyweight Championship.
"He's the first Scot to fight at heavyweight for a major championship," said Gilmour. "He didn't let us down."
Cornish's next bout, on 3 July, will be a final eliminator for the Commonwealth title against John McDermott in London.
Gilmour was delighted that Cornish, 28, beat an opponent ranked 50 places above him in the world rankings, and attention turns to English champion McDermott, twice a challenger for the British heavyweight title, at York Hall.
Cornish boasts a record of 21 wins from as many fights, with 12 knockouts.
Gilmour told BBC Scotland: "He can now fight for the Intercontinental title with the IBO, and if you win the Intercontinental you qualify [to fight] for the heavyweight championship of the world.
"If you defend the Intercontinental twice that makes you the mandatory contender for Vladimir Klitschko.
"But McDermott will be a huge challenge. He has never lost a fight at York Hall. In a lot of people's opinion he should have got the decision over Tyson Fury.
"We're going down to show Scotland have a genuine heavyweight hope.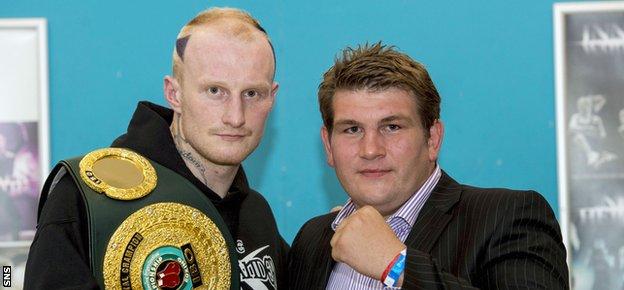 "We could be only six or eight fights from fighting for the heavyweight championship of the world but you've got to beat guys like big, bad John McDermott.
"It'll be a hard fight but each fight he's improving. He's not the finished article, there's no point in saying he'll fight Vladimir Klitschko on Tuesday, but each fight I put in front of him he's shown he's up to the task: 21 out of 21 can't be bad."
Cornish says McDermott is a "dangerous fighter" and is wary of his jab but has no fear about going to London to take him on.
He said: "I've fought in London a couple of times. It doesn't make a difference, at the end of the day it's two boys in a ring.
"Hopefully I'll get a good support. The Highlanders like a good night out - to get them down to London would be brilliant."
Similarly, McDermott is not too concerned about where the bout will be staged.
"It makes no difference to me, I'll fight him in the back garden if he wants," he said.
"Obviously with a home crowd, the judges may tip your way but I fought Tyson Fury in Brentwood. I lived in Brentwood and still got robbed so it makes no difference - it's all the same.
"I don't think he's boxed my class of people."