Carl Frampton v Scott Quigg: Let the tortuous negotiations begin
By Ben Dirs
BBC Sport in Belfast
Last updated on .From the section Boxing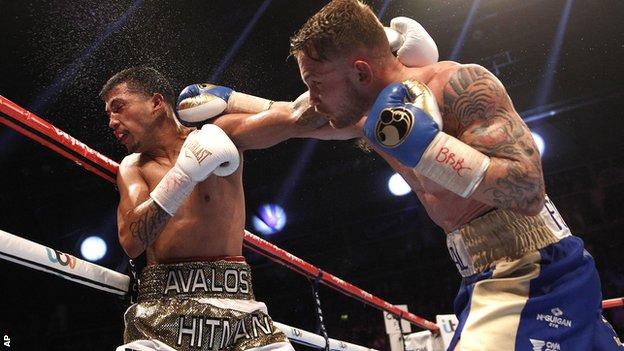 Chris Avalos was still demanding a rematch as the oxygen mask was removed from his face. Maybe he needed some sense battered back into him. Because at Belfast's Odyssey Arena on Saturday, Avalos walked into a threshing machine.
"I wanted to teach him some manners," said Frampton, having secured a first defence of his IBF super-bantamweight title via a fifth-round stoppage.
"Before the first bell he said: 'It's only you and me now.' He still didn't show respect afterwards, he was still talking about a rematch as he was leaving. The referee did the right thing, because he could have been seriously injured."
It is fast becoming clear that anyone who steps into a ring with the 28-year-old Frampton runs the risk of being seriously injured.
Frampton might be a nice man beyond the ropes but he is horrible between them. And how the Belfast faithful love it.
Not since Ricky Hatton's salad days - figuratively speaking - has a boxer from the UK commanded such rabid support. All six of Frampton's fights at the Odyssey Arena have ended early.
The perfect fan's fighter, Frampton gets the job done before last orders.
Ringside at the Odyssey was Frampton's English rival Scott Quigg. Bury's Quigg owns a small portion of the WBA super-bantamweight title, which should make a match with Frampton inevitable. And if 9,000 Northern Irish men and women were unable to persuade him, there was better news to come.
At the post-fight news conference, Frampton's manager, Barry McGuigan, said they were willing to travel to Quigg's backyard to make the fight happen.
Frampton, too, doesn't seem at all fazed about leaving the bosom of his home town. He is trained in London by McGuigan's son, Shane, meaning he considers England a second home.
Belfast, London, Manchester - Frampton says he is prepared to take on Quigg in any venue that will accommodate them.
"Now is the perfect moment to do it," Frampton said. "The fight's been brewing, so it has to happen now."
The fight against Avalos was Frampton's first on ITV and McGuigan is anticipating the terrestrial television channel's executives will be keen to take the all-action Frampton show to England, ITV's principal audience.
In doing so, Frampton would be following in his mentor's footsteps.
McGuigan won the WBA featherweight title at QPR's Loftus Road ground 30 years ago in June, beating Eusebio Pedroza before a television audience of 20 million and in the process becoming one of the most recognisable names in British sport.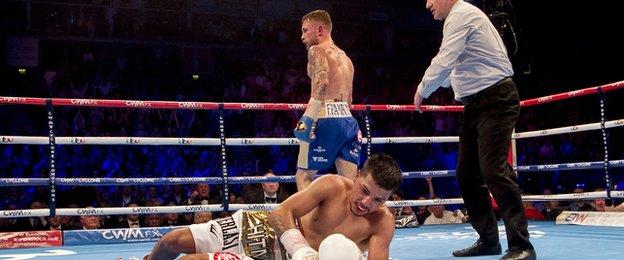 Now the problems.
While Quigg appears keen on the match, he currently fights on Sky, albeit on a fight-by-fight basis. As such, he is promoted by Eddie Hearn, who will no doubt tell Quigg that a fight against Frampton would make far more money as a pay-per-view event, which ITV cannot facilitate.
Hearn is right. However, McGuigan has accused Hearn of greed and failing to see the bigger picture. McGuigan's pitch is that fighting on terrestrial television will make both men "superstars" and be good for the sport.
"Eddie thinks of the numbers all the time," McGuigan said. "Well, let's think about the game."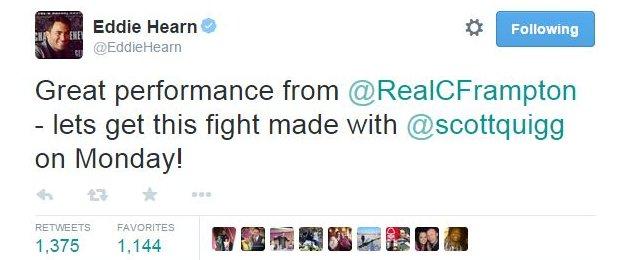 In relation to modern boxing, such talk sounds innocent, almost naive.
Quigg is also entitled to think of numbers all the time and less about the game.
He is not a huge draw in his own right. Indeed, it is quite conceivable that, even if the fight were to take place in England, Frampton would have the lion's share of support.
As such, it makes perfect sense for Quigg to earn as much money as possible against Frampton, because, as it stands, he does not have any alternative big-money options to look forward to.
It will probably come down to how much money ITV can stump up, and not whether Quigg wants to do right by the sport of boxing.
For his part, Hearn will be desperate to cash in on what could be Quigg's one shot at the big time.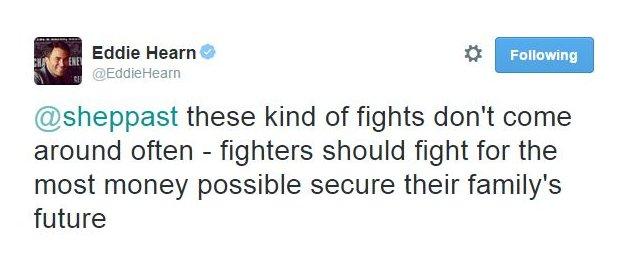 Given Frampton's recent performances - the mauling of Avalos and his stirring, title-winning victory over Kiko Martinez last September - Hearn knows Quigg would be a heavy underdog should the fight take place.
That Frampton is so sweet on a Quigg fight is also down to a lack of alternatives.
Guillermo Rigondeaux is the WBA's so-called 'super' champion - Quigg is its 'regular' champion - but the talented Cuban is a master technician and not a big draw, meaning McGuigan is not in the least bit interested.
The WBC's champion is Leo Santa Cruz. The Mexican has signed with Floyd Mayweather's adviser Al Haymon, who is bringing boxing back to terrestrial television in the United States.
Santa Cruz seems set on a fight with former featherweight world champion Abner Mares. Frampton is not on his radar.
Inevitably, Quigg sounded as keen as Frampton when a microphone was stuck under his nose in Belfast.
"The British public want the fight to happen," Quigg said. "Let's get it on."
Inevitably, negotiations will be tortuous.